The excitement of having a baby shower was very overwhelming for me this time around with Lighten Baby #4 on the way. With being on a very strict bed rest the last 4 months of my previous pregnancy, and with the devastating outcome of the circumstances under which Savannah was actually born, the reality of having a baby shower just wasn't going to happen. I carried a lot of emotional baggage from my last pregnancy, and this time around, I wanted to embrace an event that would celebrate the new life growing within me, totally problem-free.
Our little Savannah will be turning two in just three days. We didn't celebrate her first birthday and don't plan to celebrate her second one either. We figure it wouldn't be much of a celebration with her sleeping or seizing throughout the party. She spends the majority of her days sleeping, staring at the wall, or having seizures. We have never witnessed her smile, show any type of excitement or happiness, or have any desire to eat through her mouth or play. She doesn't have the ability to hold up her head, sit up, reach for objects, or swallow. My husband and I struggle daily with our emotions for this child and what the best options are for her. We hate to see her suffer, and pray daily for guidance to make the right choices for her and our family.
My friend, Kira, who began to work for us just before the problems with my last pregnancy came about, volunteered to host my shower for me! I was so honored by her sweet and generous gesture! I realize that throwing a shower for someone is a huge undertaking, and I have a very limited number of friends that would even consider to take on such a task. So, a HUGE, ENORMOUS thank you goes out to Kira for all of her hard-work and time that she placed into making my vision come to life.
Teresa, from Flora Couture, definitely can't go without some MAJOR recognition as well! She is responsible for taking all of my pinned photos on Pinterest and compounding them with some of her own flair to truly make the banquet hall, at Bear's Best, look fantastic – truly so warm and inviting!! She did all of the floral arrangements, most of the decor, and the beautiful backdrop behind the cupcake-table, minus the banner (which Kira hand-made herself). These ladies really made my oh-so-girly shabby-chic bruncheon a fabulous event!
We were extremely fortunate that Gordon at Bear's Best allowed us to use his newly remodeled banquet hall for our shower. I loved the new refinished ceiling, and the new carpet is such a lovely neutral color with a beautiful pattern! Also, the gold chivari chairs that come standard with all of his wedding packages, are simply stunning and complimented our feminine and elegant baby shower perfectly!
So, I'd like to invite you to take a glimpse into this very special and important day to me. Also, speaking of inviting, the day couldn't have happened without the actual invitations! I designed them myself and then hand-decorated each one individually with love, lace and other little odds and ends. Each invitation is unique and a great deal of care went into making them.
I truly feel so blessed and humbled by all of the loved ones that came to support this very special occasion for us and take time out of their very busy, hectic lives! Thanks to all of those as well who simply couldn't attend and sent gifts through the mail! Totally didn't expect that, but was so grateful!
Lastly, I also need to point out that the my camera was passed back and forth throughout the event between myself, Kira, Terrence and Stephanie, so I obviously couldn't have taken all of these photos, especially, with me being in so many of them, LOL!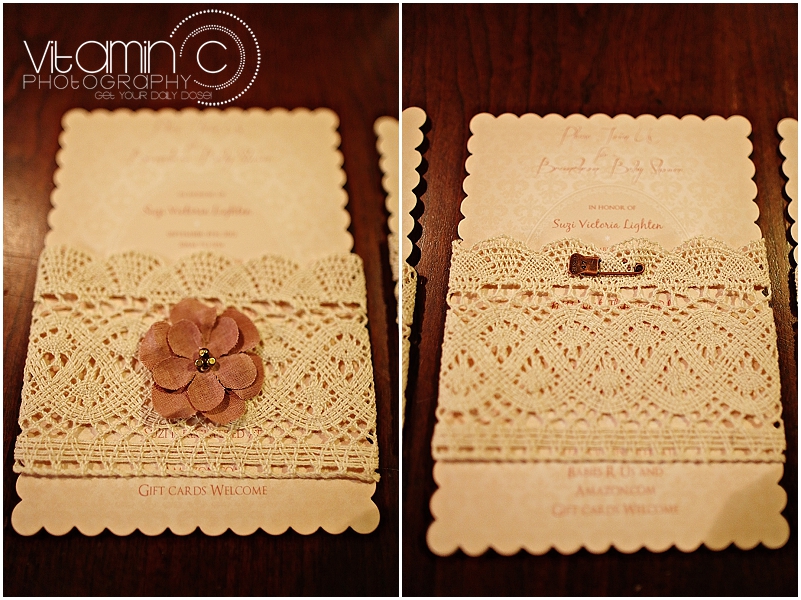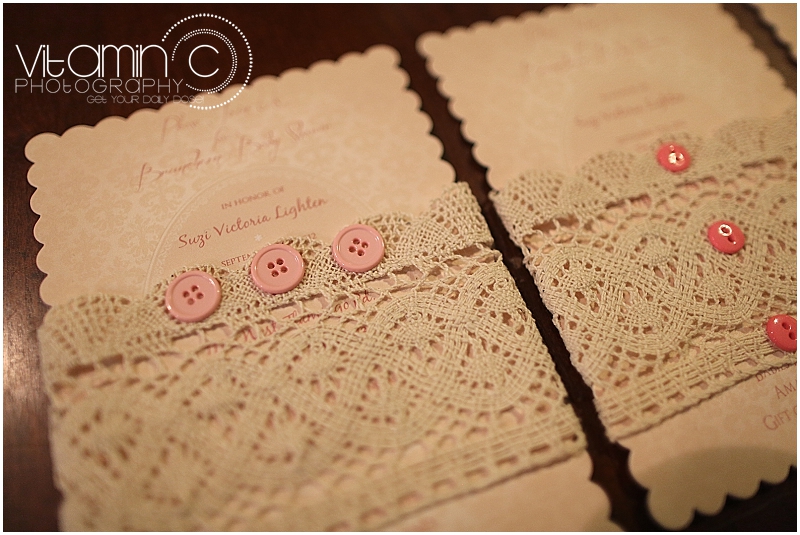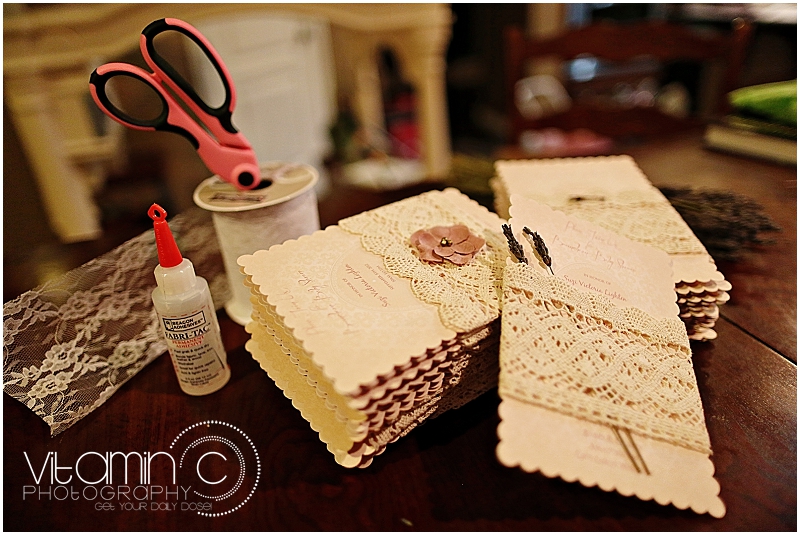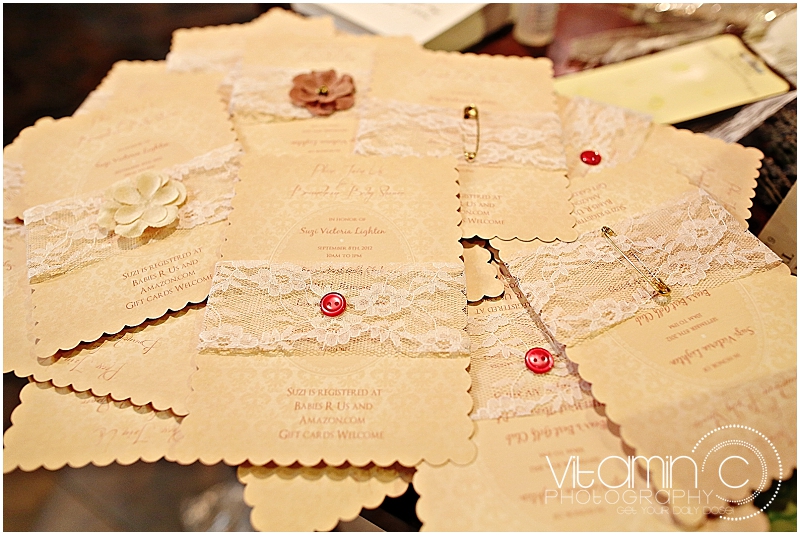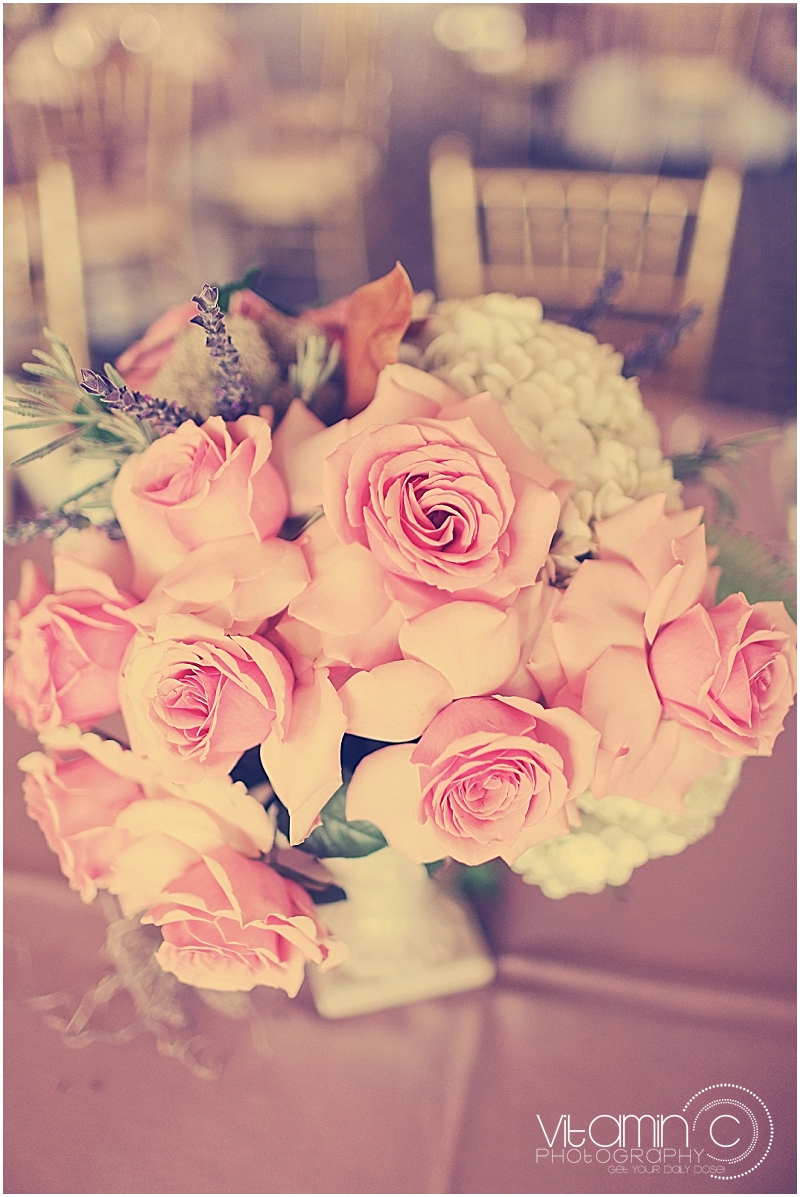 Beautiful floral arrangements by Flora Couture.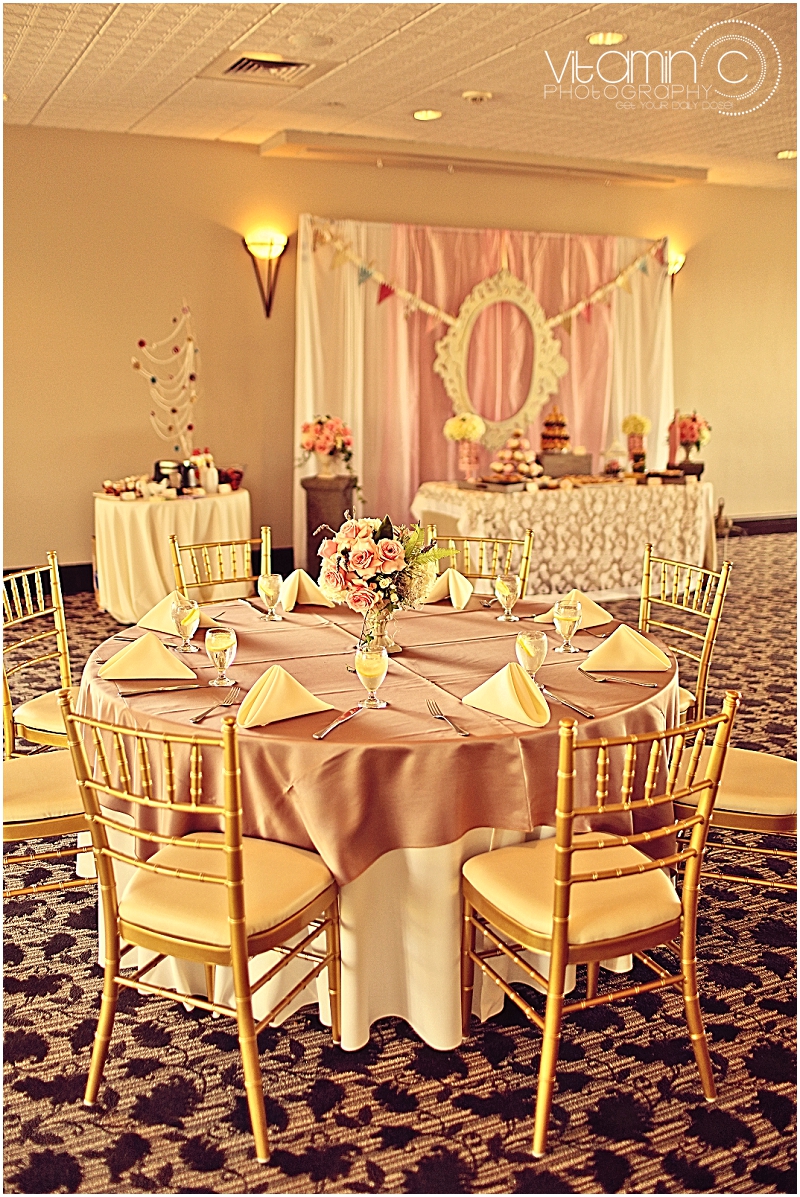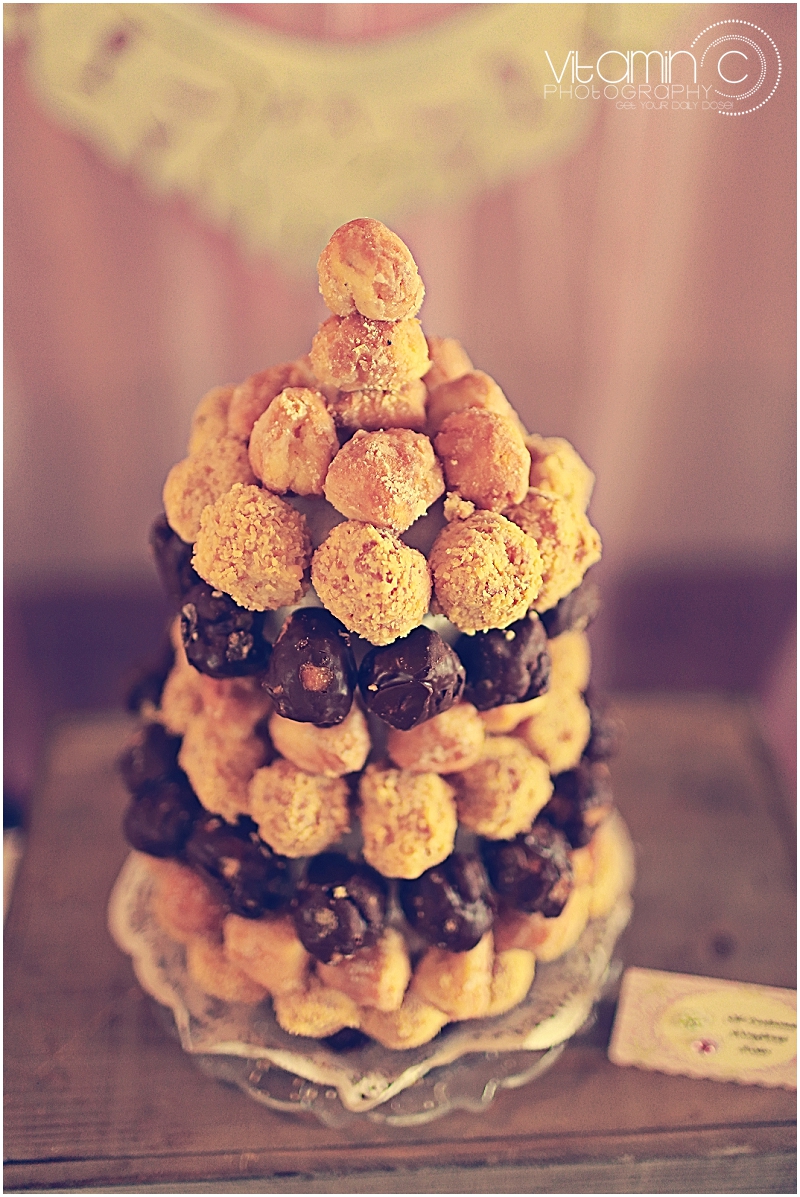 Kira made this beautiful donut hole cake!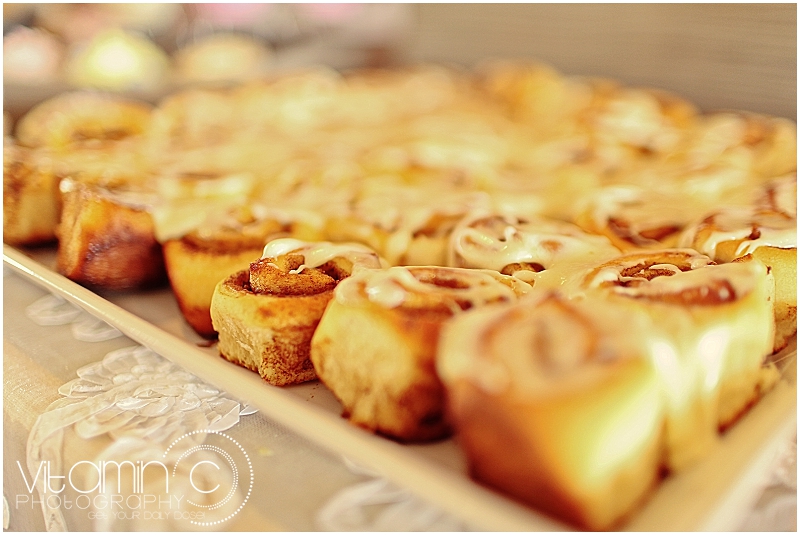 Kira also made these home-made cinnamon buns!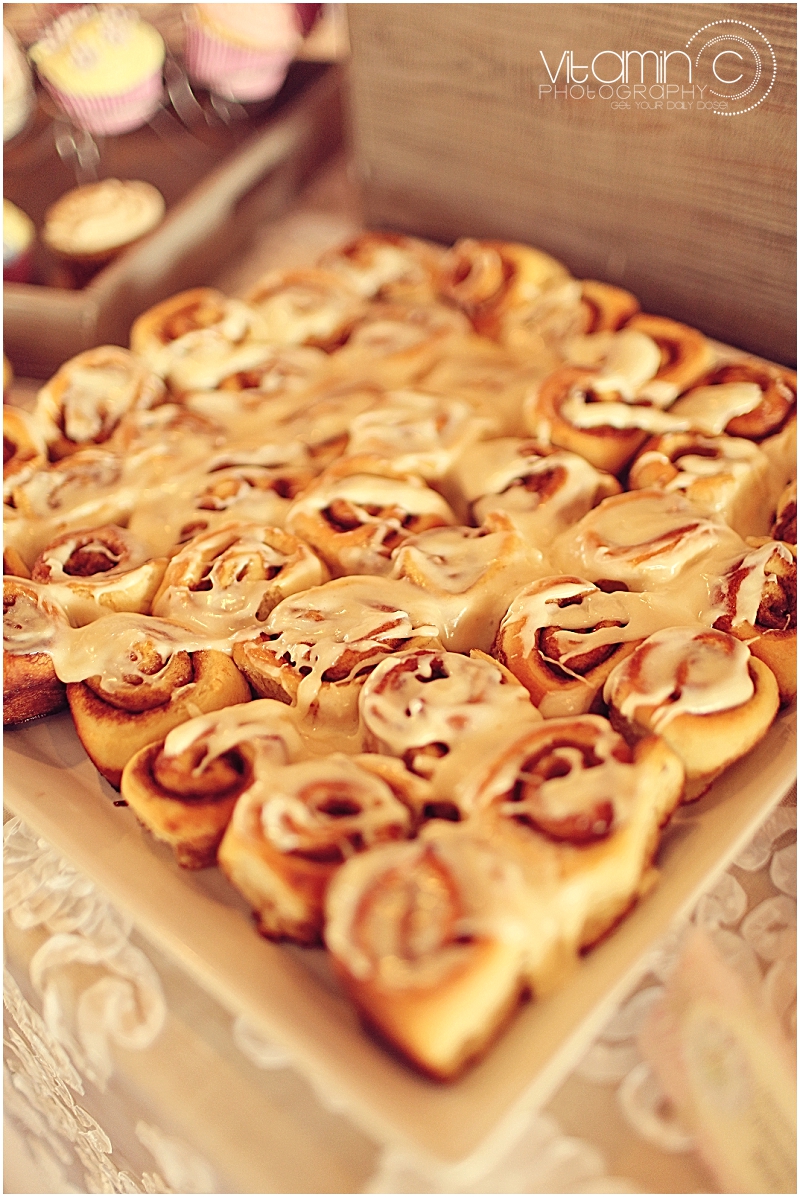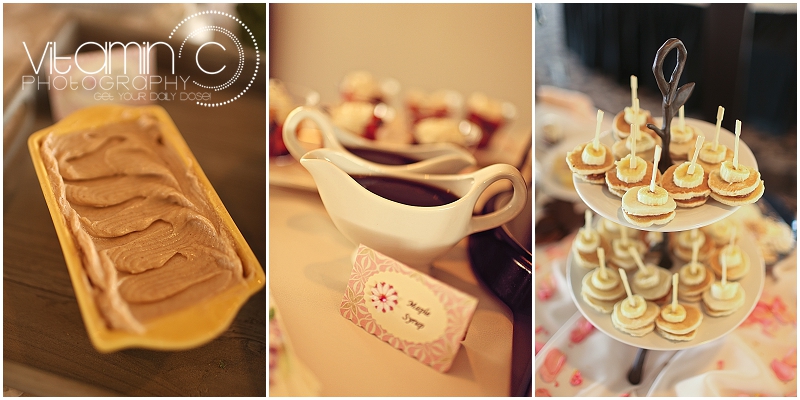 I made the honey cinnamon butter, and Kira made the cute mini pancake stacks.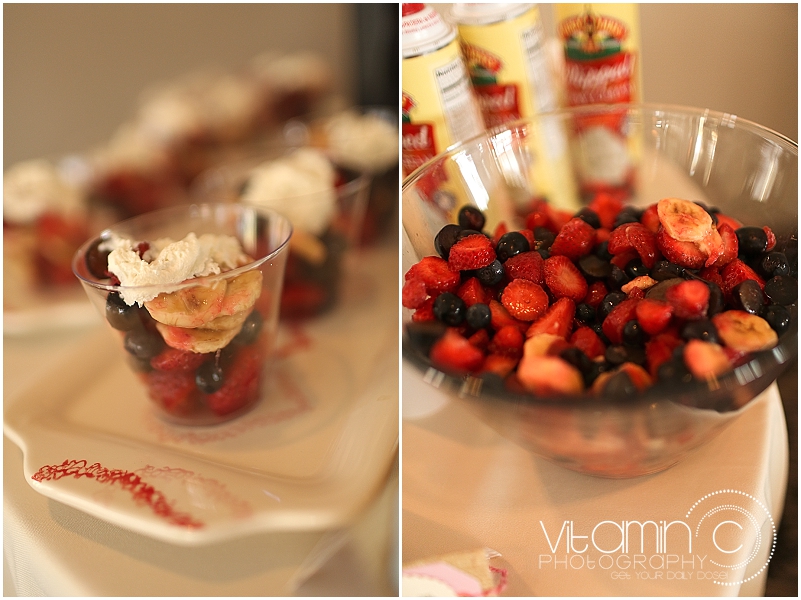 I made a fresh berry and fruit mixture to eat either individually, served in the cups with fresh whipping cream, or to add on to top of the guests' freshly made waffles.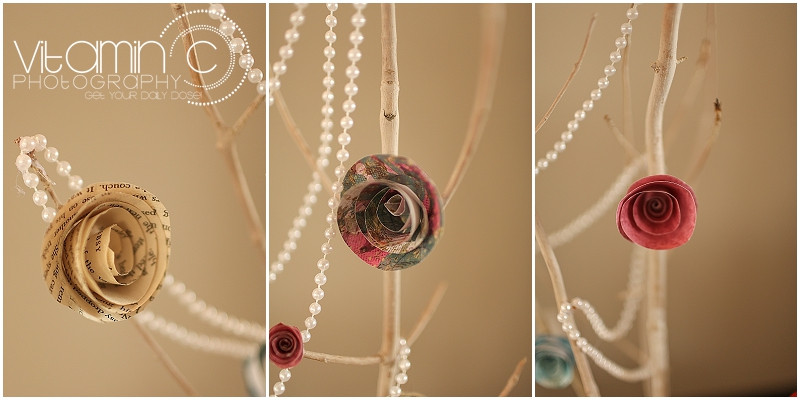 Kira made these vintage ornate flowers made from paper and were adhered to barren tree branches and accented with pearls for a delicate and dainty accent piece to our waffle station table.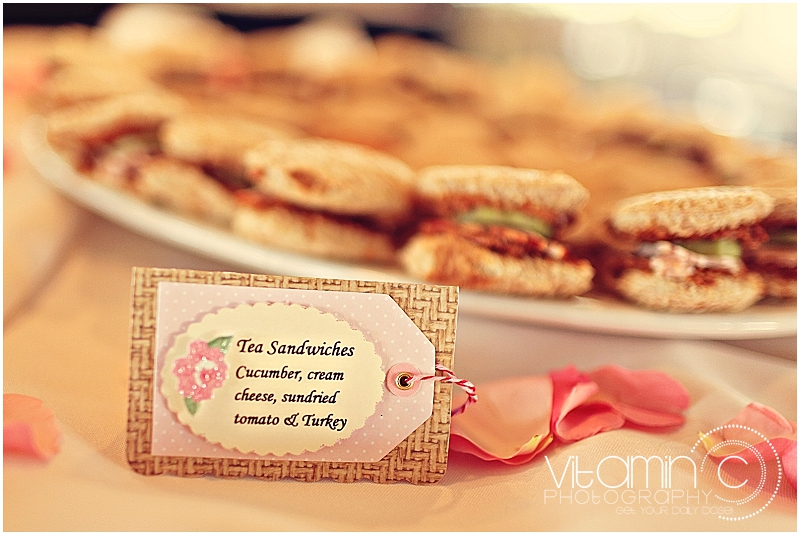 We served two types of tea sandwiches. I made these ones.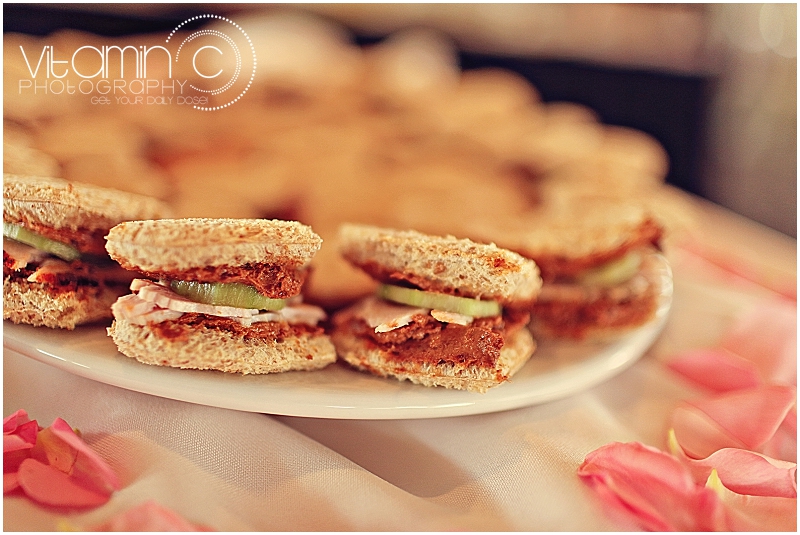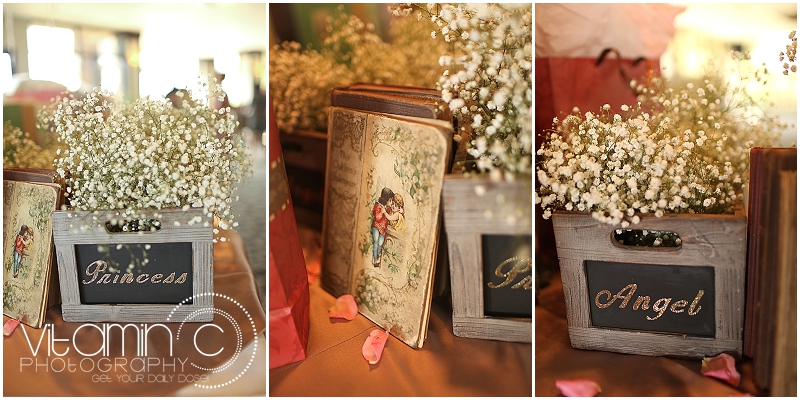 These beautiful crates filled with Baby's Breath sat on the gift table, provided by Flora Couture. Kira and I both had some vintage books that we also used for decor. These were actually inspired by Morgan and Shelby's wedding!! (See previous post)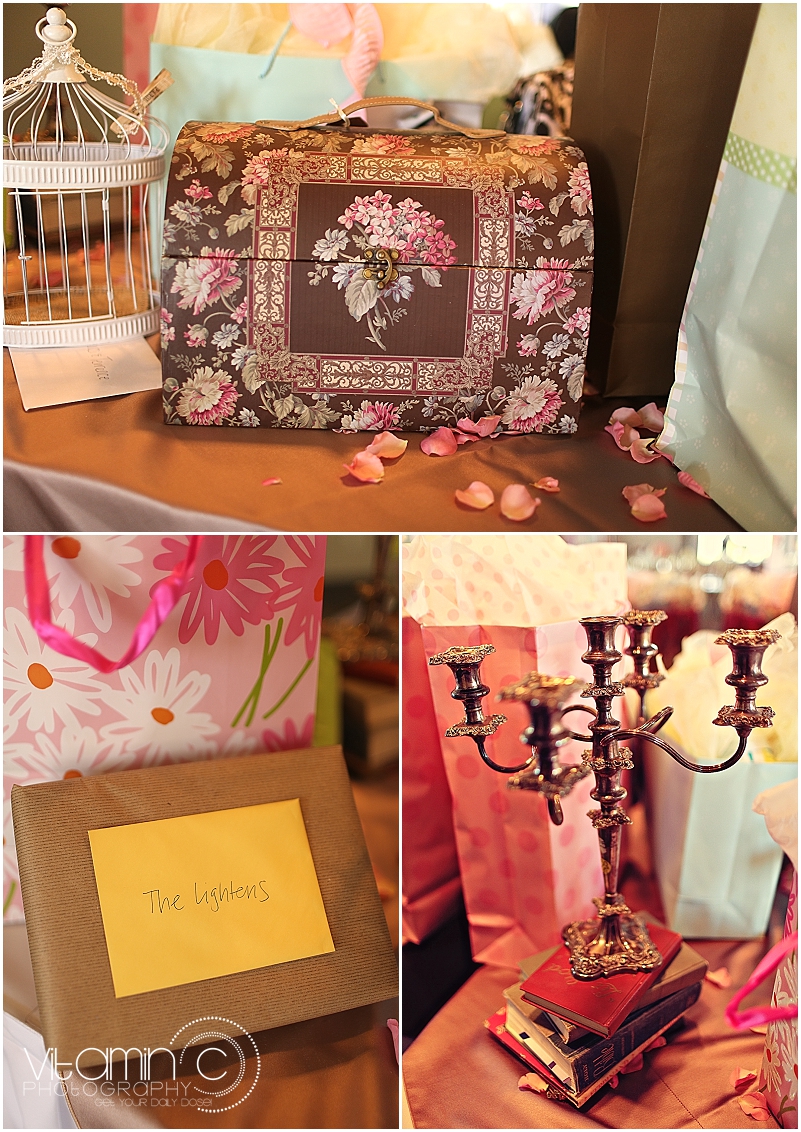 Kira provided her trunk and candelabra for the gift table as well!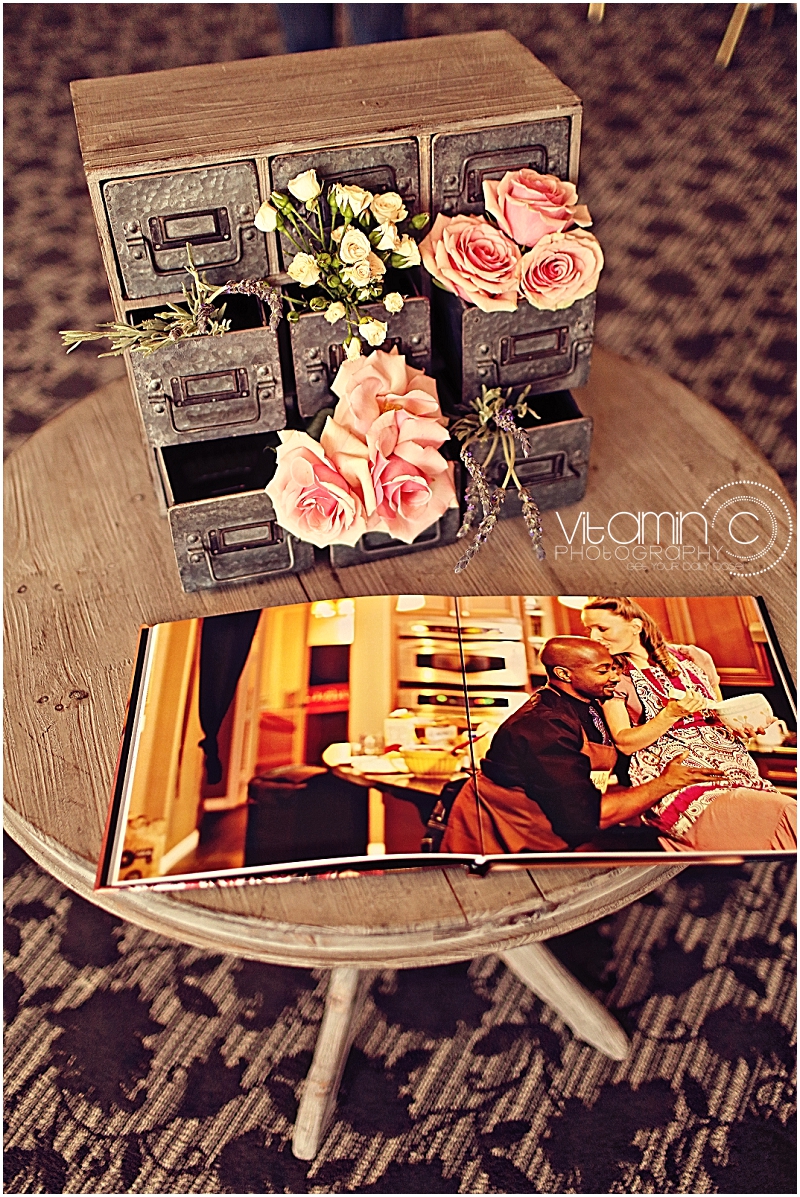 This lovely table and chest of drawers with flowers was also brought in by Flora Couture.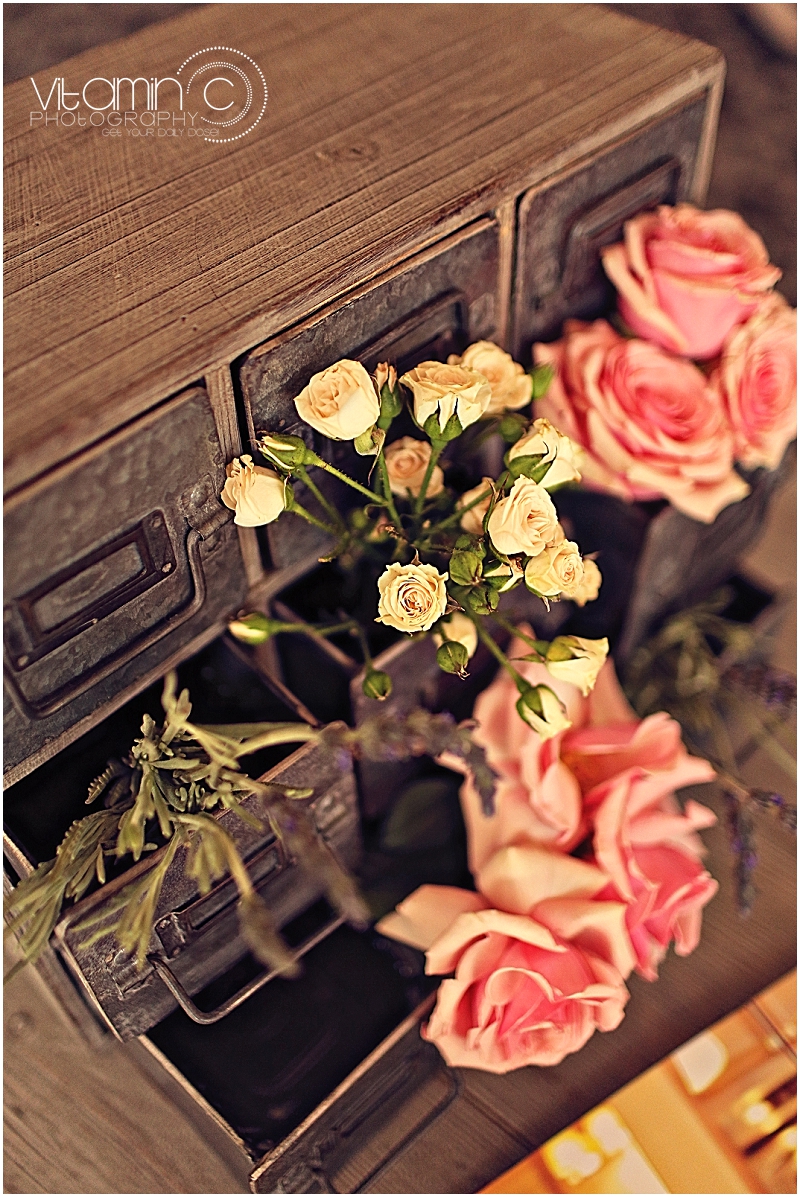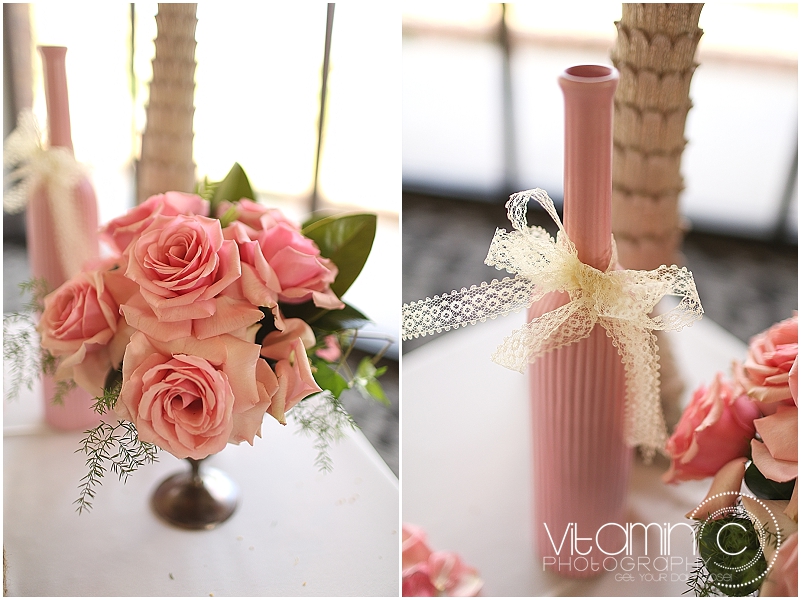 More decor by Flora Couture sat on our Raffle Prize Table.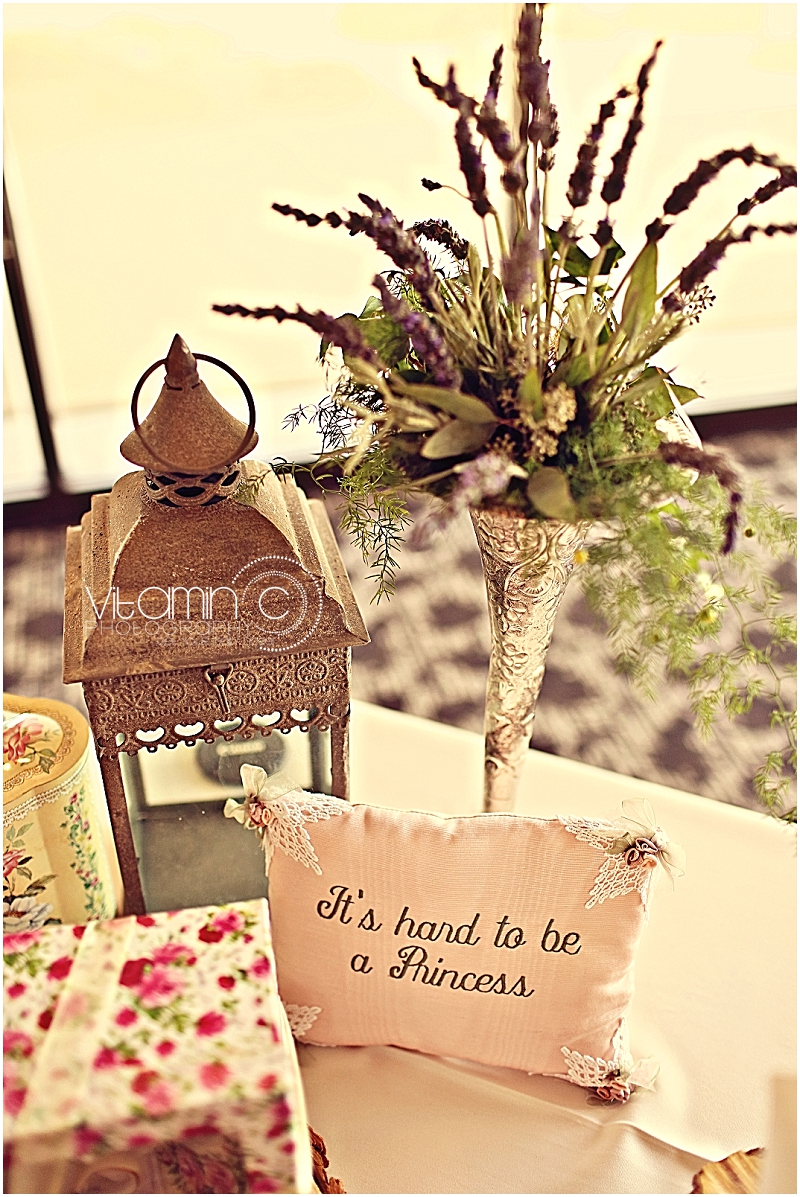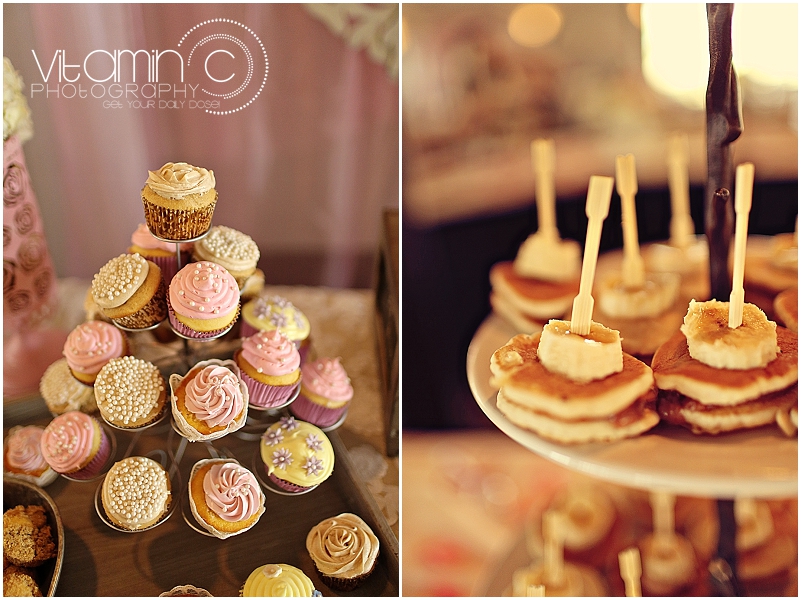 Kira has some amazingly talented baker friends whom she solicited to make these gourmet dainty cupcakes! They were a sight to behold! I didn't actually get to taste one, but I'm sure they were out of this world!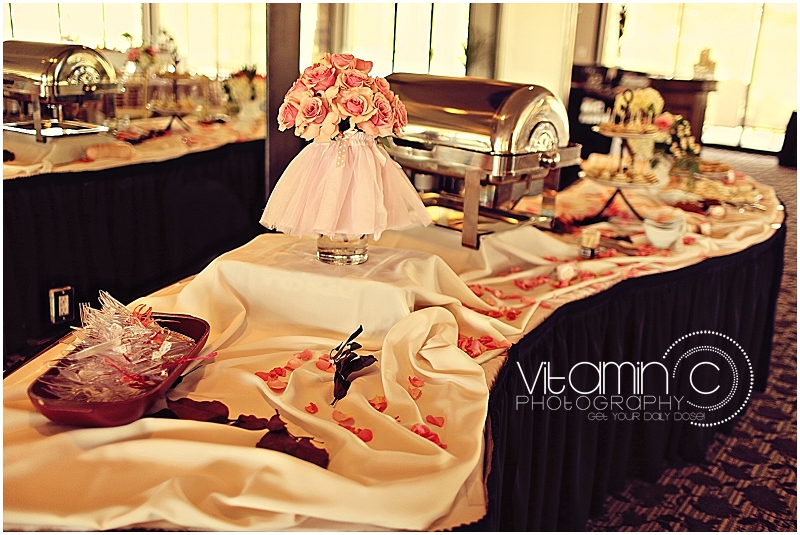 In the chaffing dish, we also served "pigs in a blanket," which were thoughtfully made by my friend and assistant Stephanie the morning of the shower!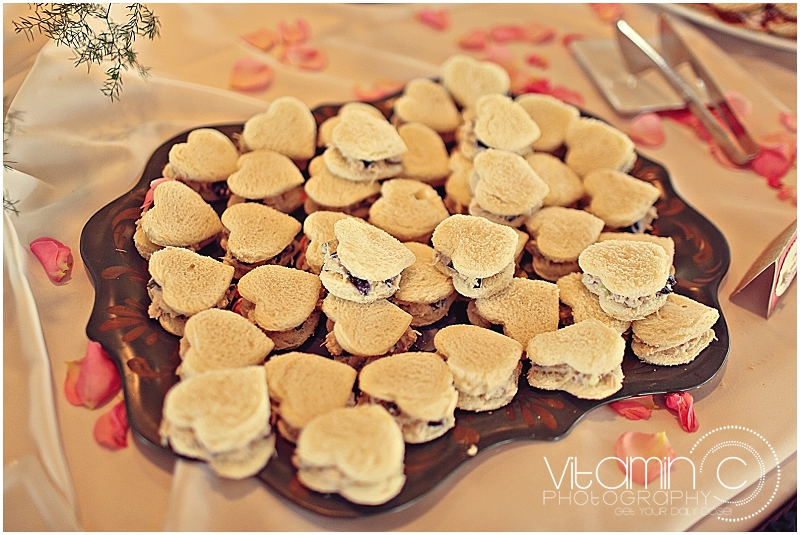 I also made the filling for the chicken salad tea-sandwiches, and it was a group effort between Kira and Stephanie to hand-cut out the heart-shaped pieces of bread and get them filled the morning of the party!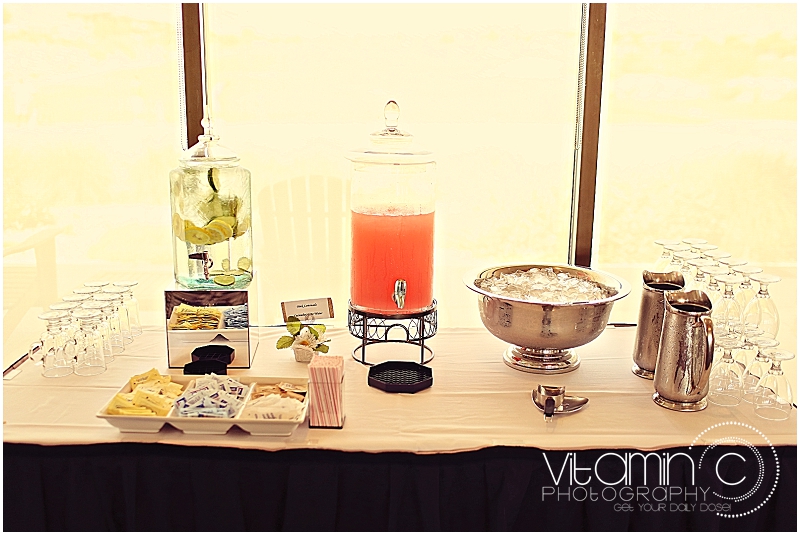 Here is our pretty beverage/refreshment table, where we had cucumber and lime water, and pink lemonade.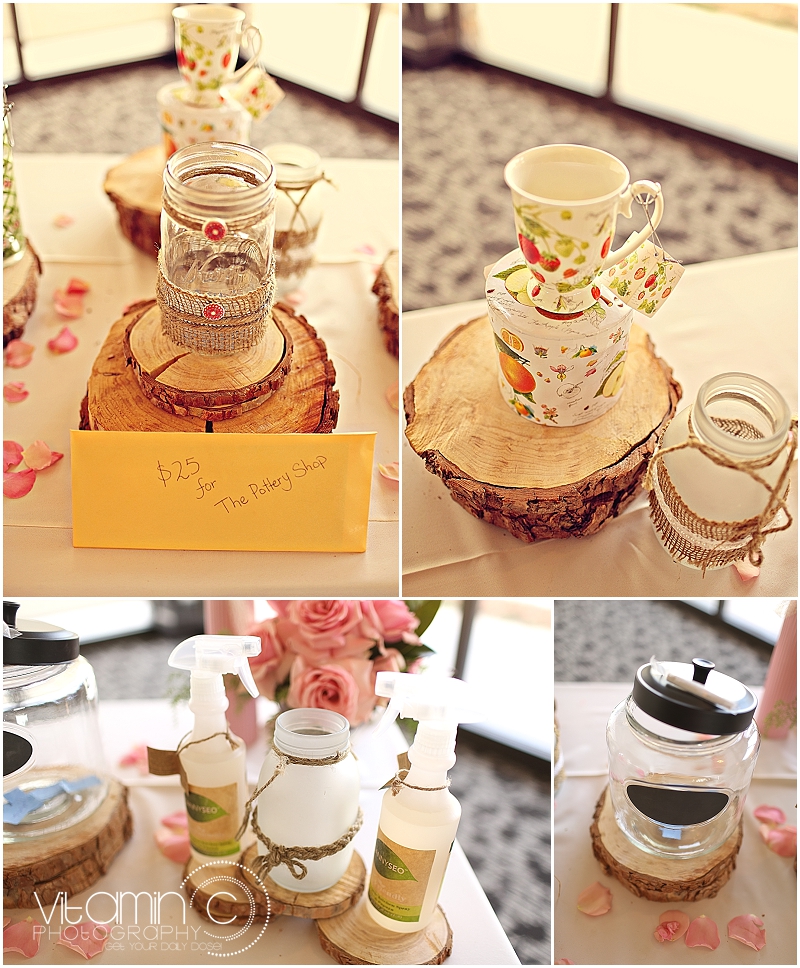 I found some really nice gifts for our raffle table, and we also had three of our guests contribute prizes to our raffle! Stephanie, my assistant, and now owner of STK Weddings and Events, LLC, has a garage full of all sorts of fun decor items that she let us borrow for the shower, like the tree branch stumps and mason jars covered in lace.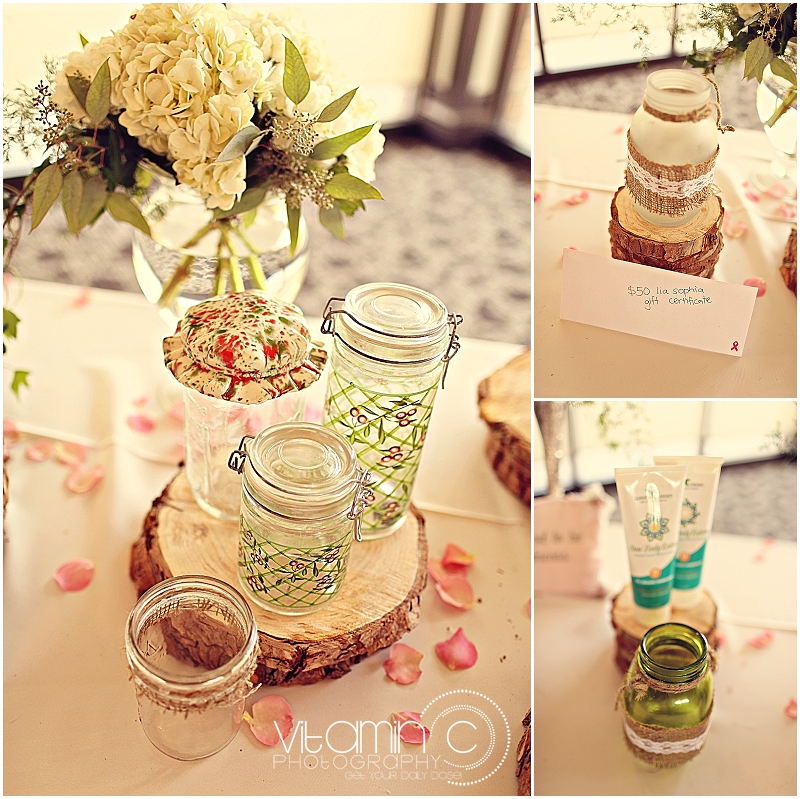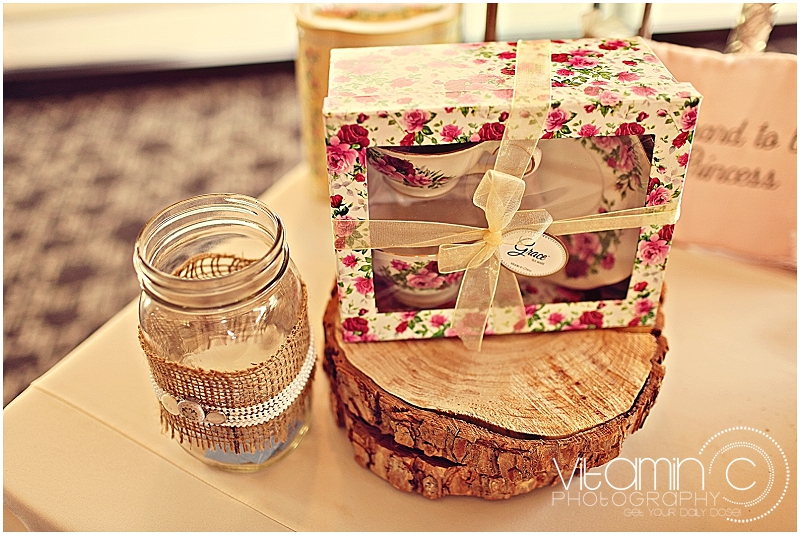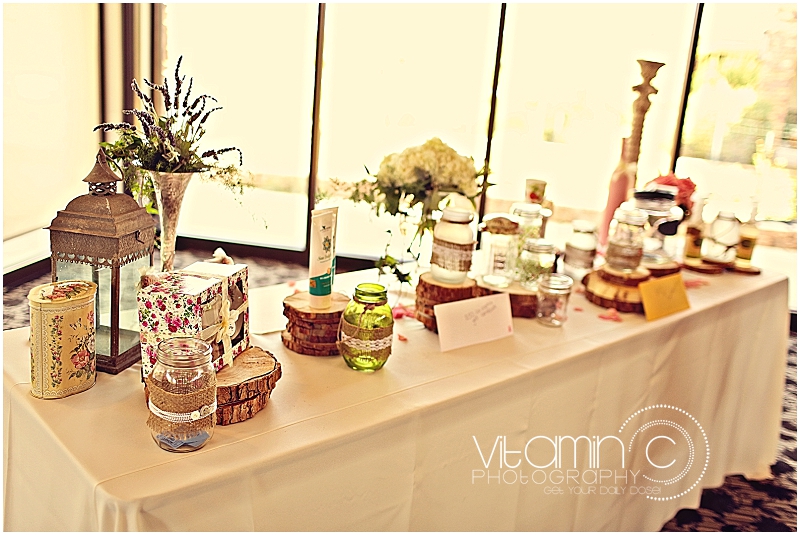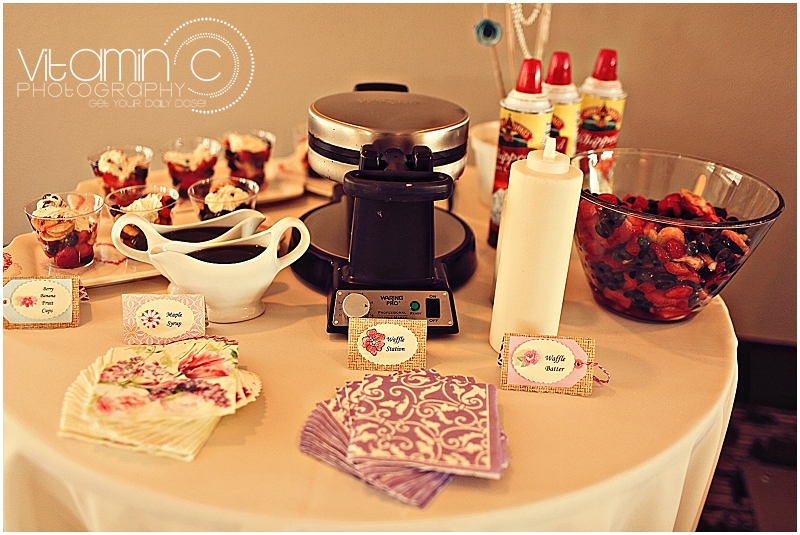 Here is a close-up of our waffle station!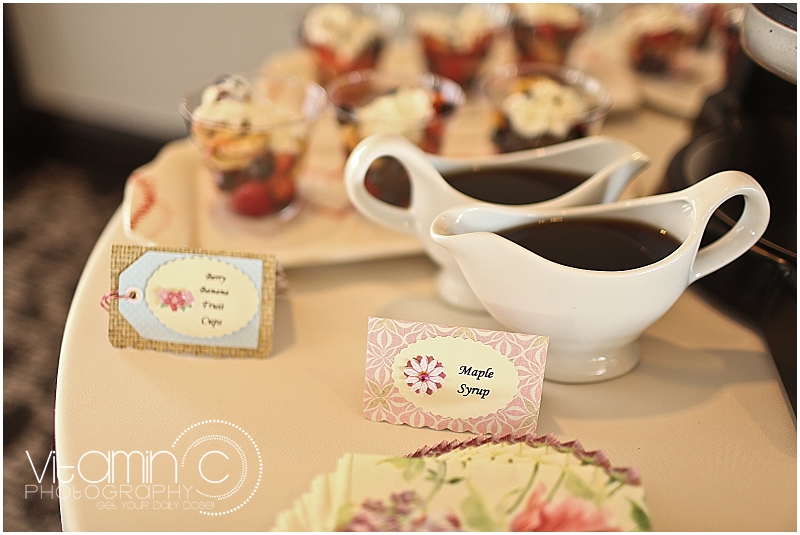 The amazingly talented Stephanie also made the beautifully ornate food description cards – they were simply gorgeous, and I couldn't have been happier with how they turned out!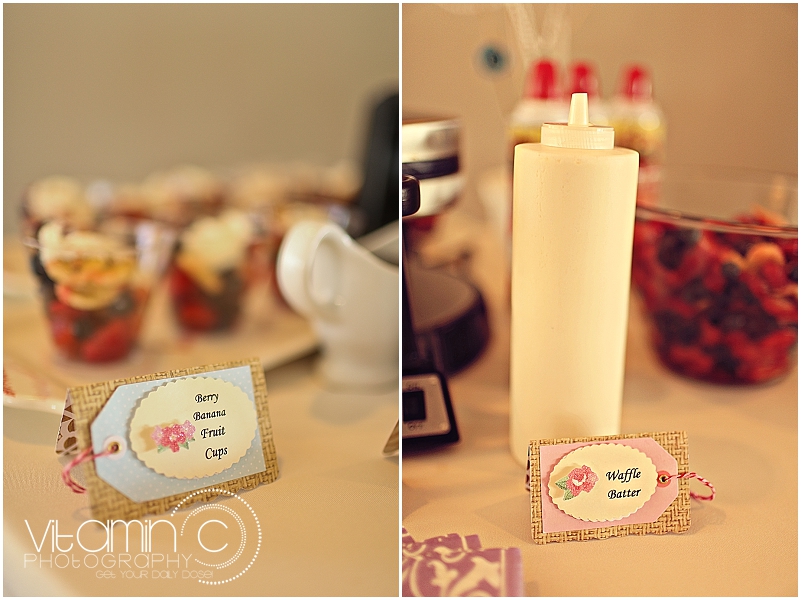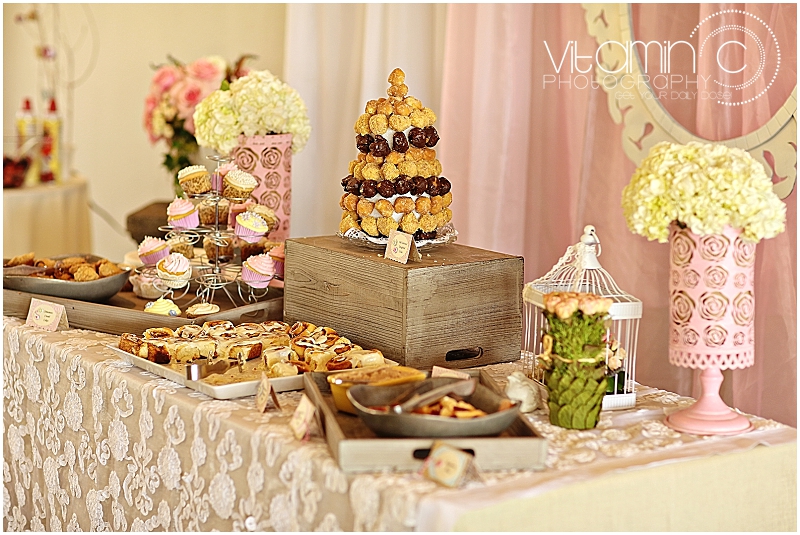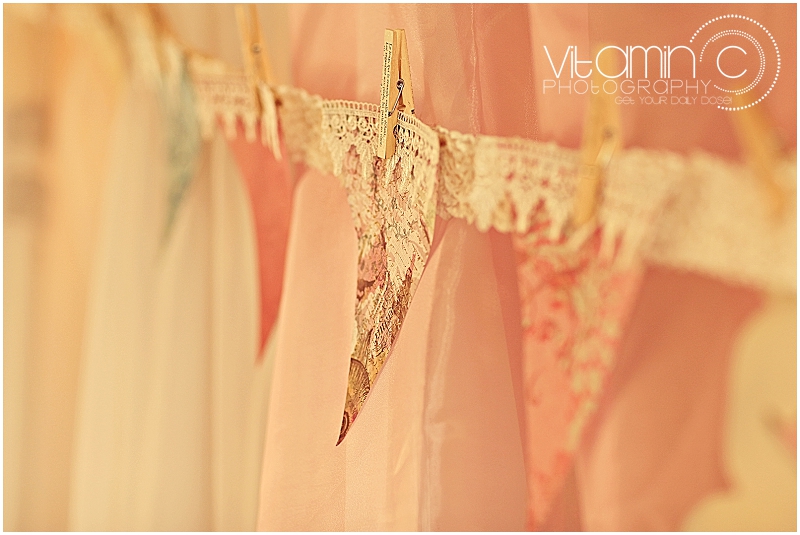 Here is a close-up of the lovely flag banner that Kira handmade!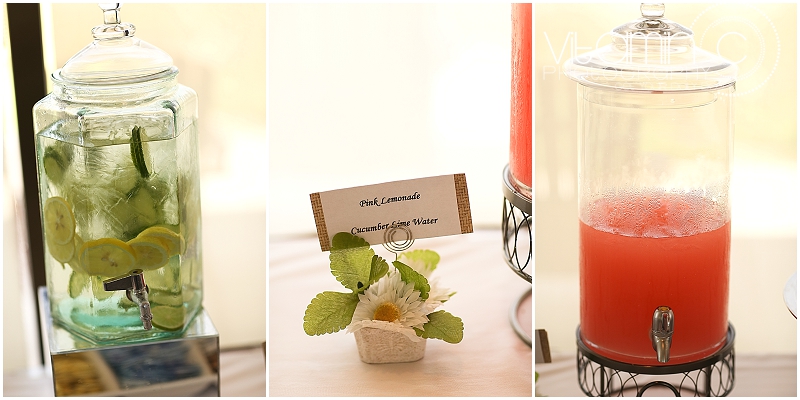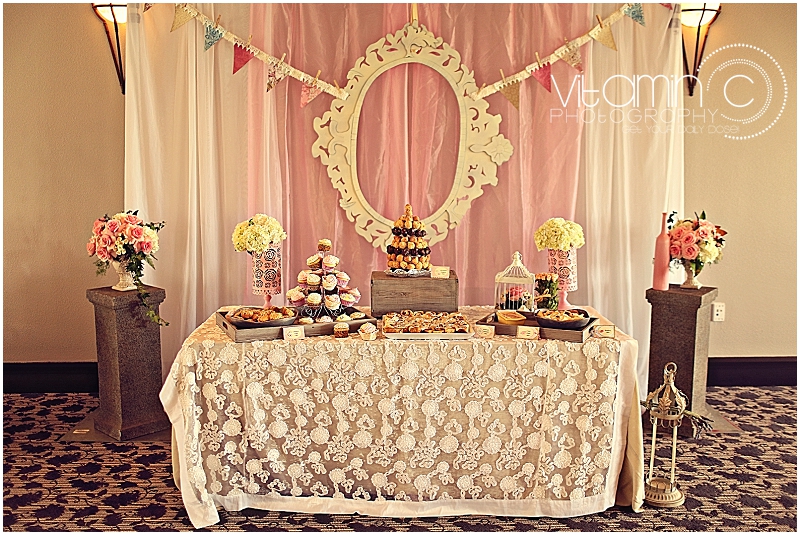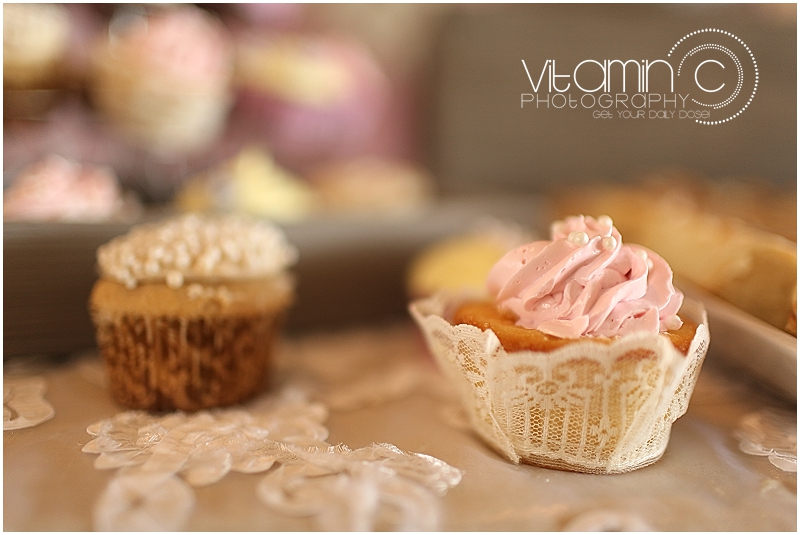 I absolutely adored the cupcakes that were framed with lace and topped with a light lavender icing.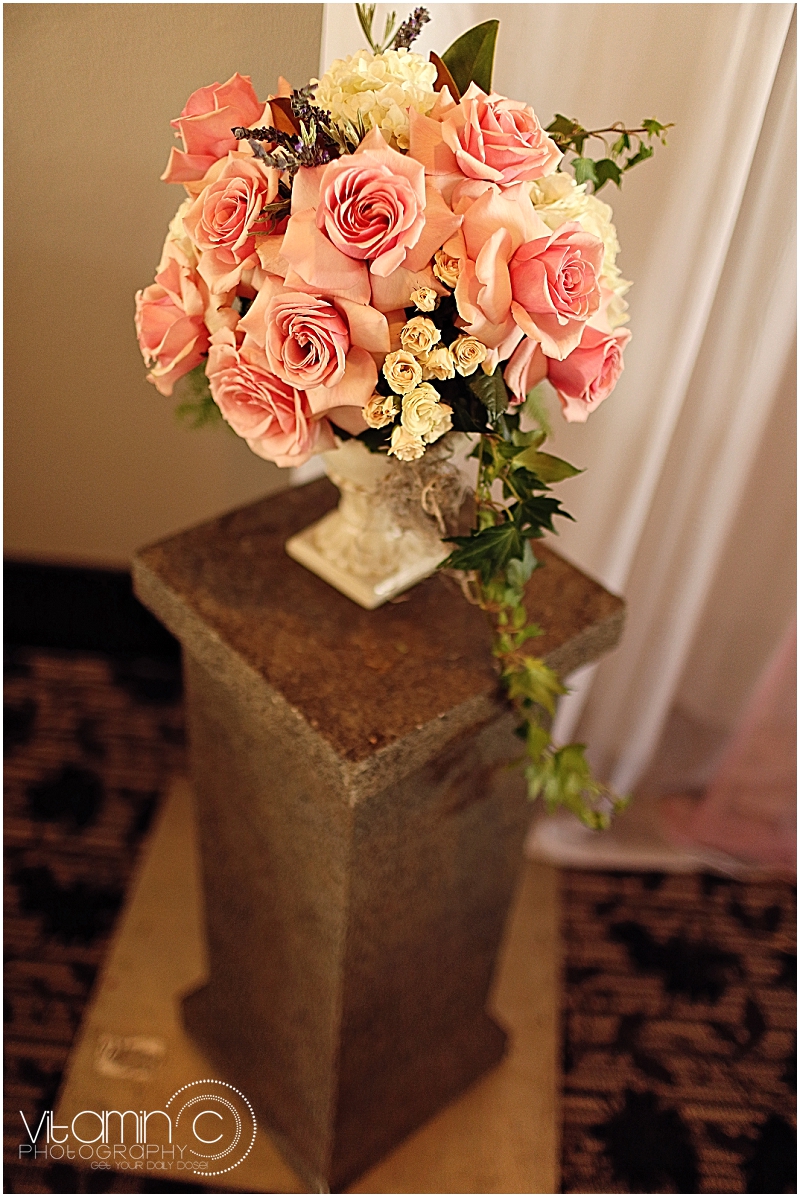 More gorgeous floral by Flora Couture!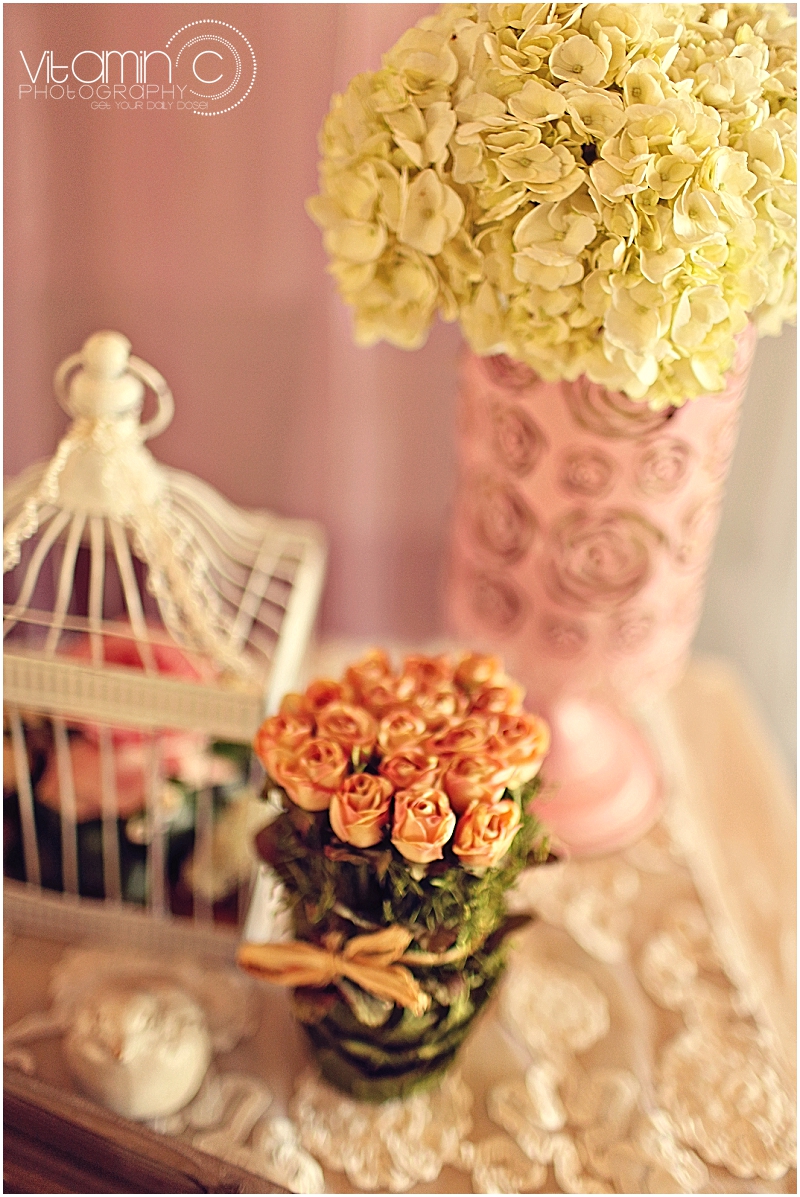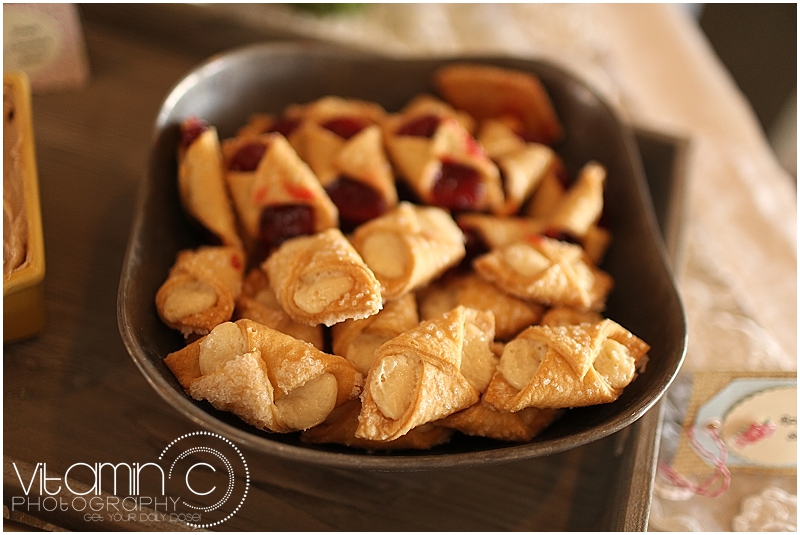 Raspberry and cream-cheese bites!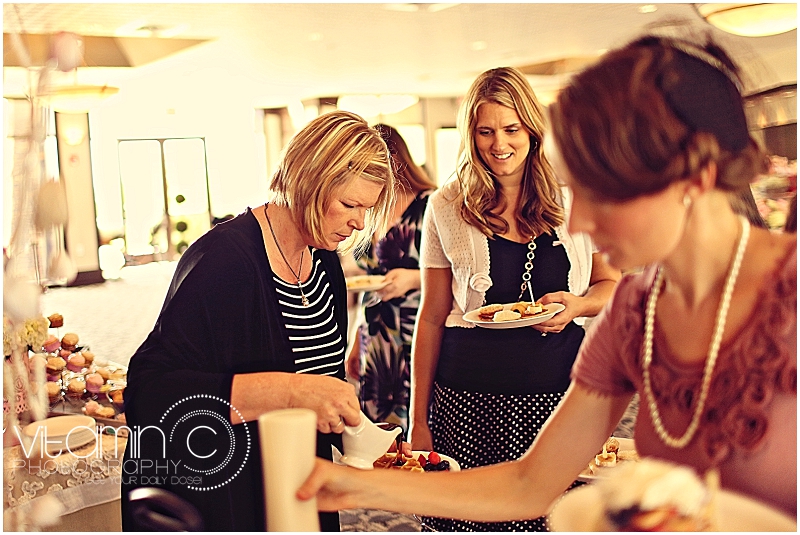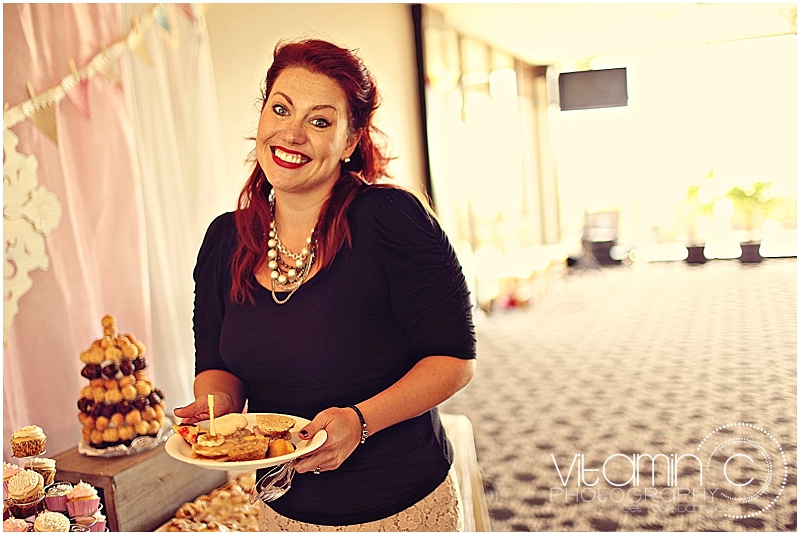 Here is the beautiful and amazingly talented Teresa from Flora Couture!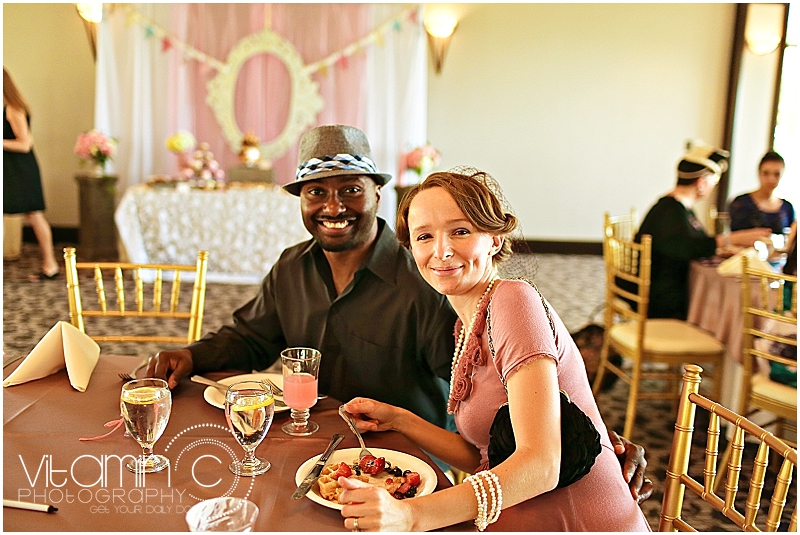 Yours truly, with my hubby, Terrence. He was the only guy at the shower, as this was an all ladies' event.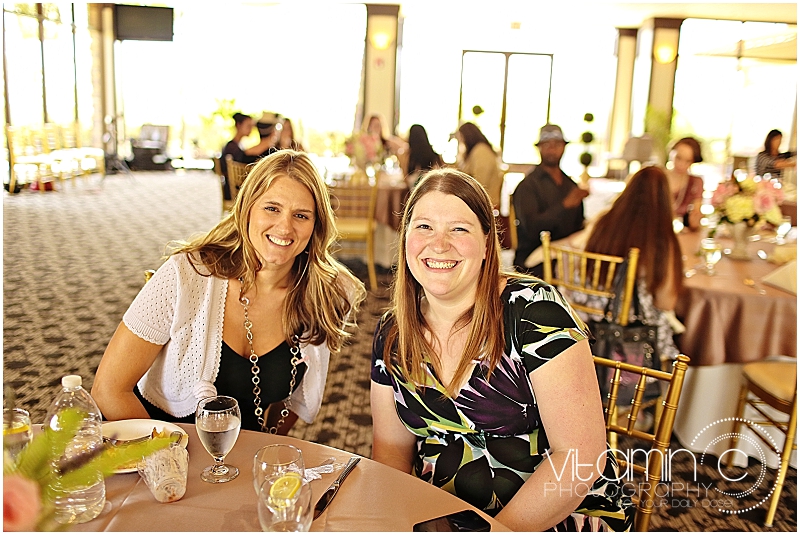 My friend/assistant Stephanie and friend/past bride Tara!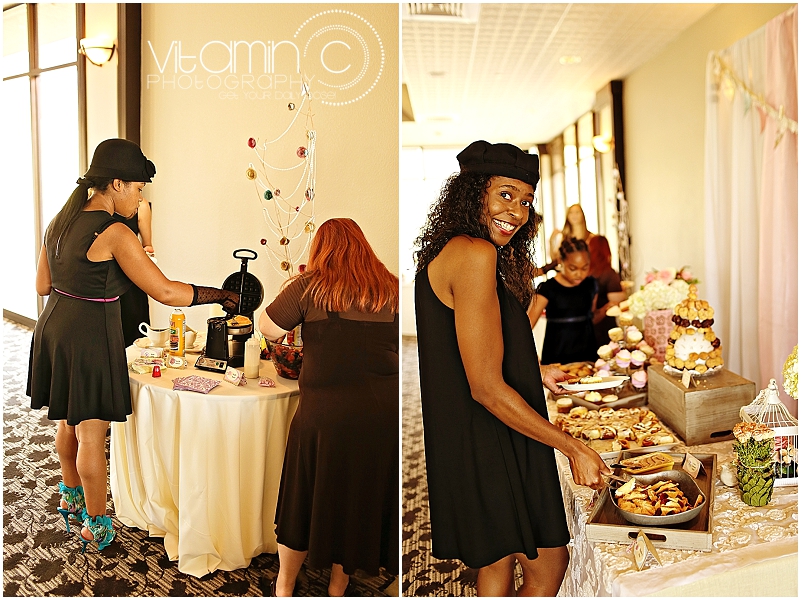 (left)The waffle station went over quite nicely! (right) My beautiful sister-in-law, Kim.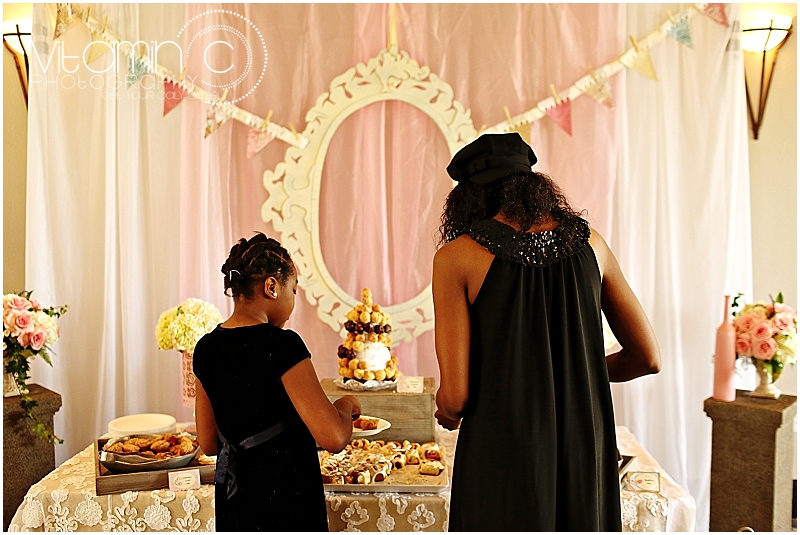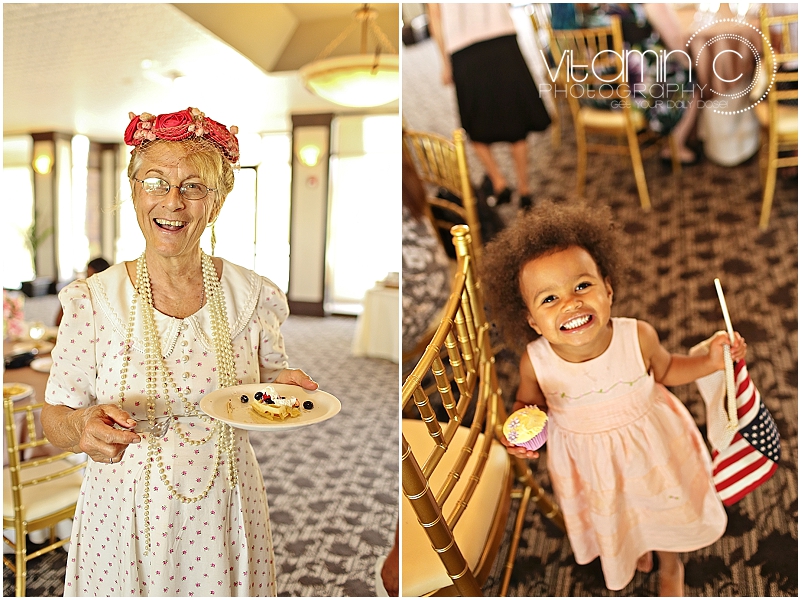 My mom (left) and daughter Arielle (right). Do I really need to specify who's who? LOL…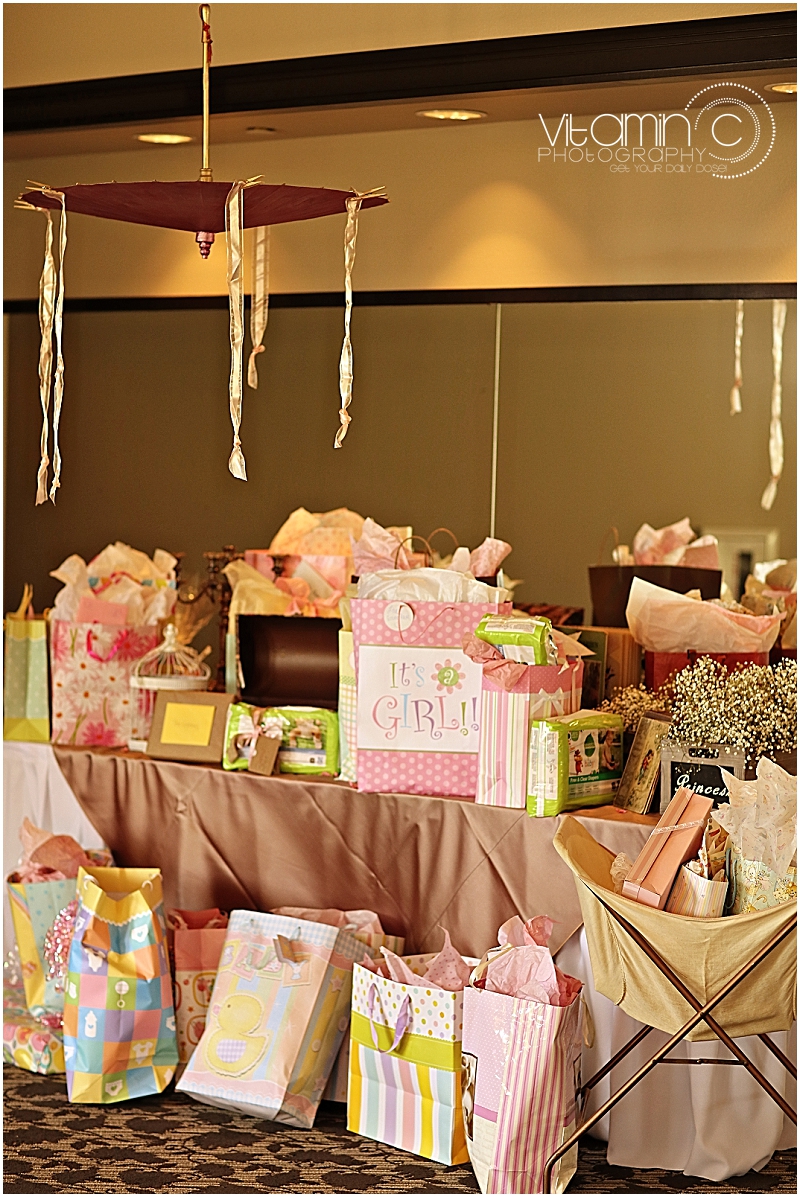 I asked Teresa if she had any pink parolsols we could hang from the ceiling to represent the whole "shower" concept, and she totally pulled through! I LOVED how this looked hanging overhead the gift table!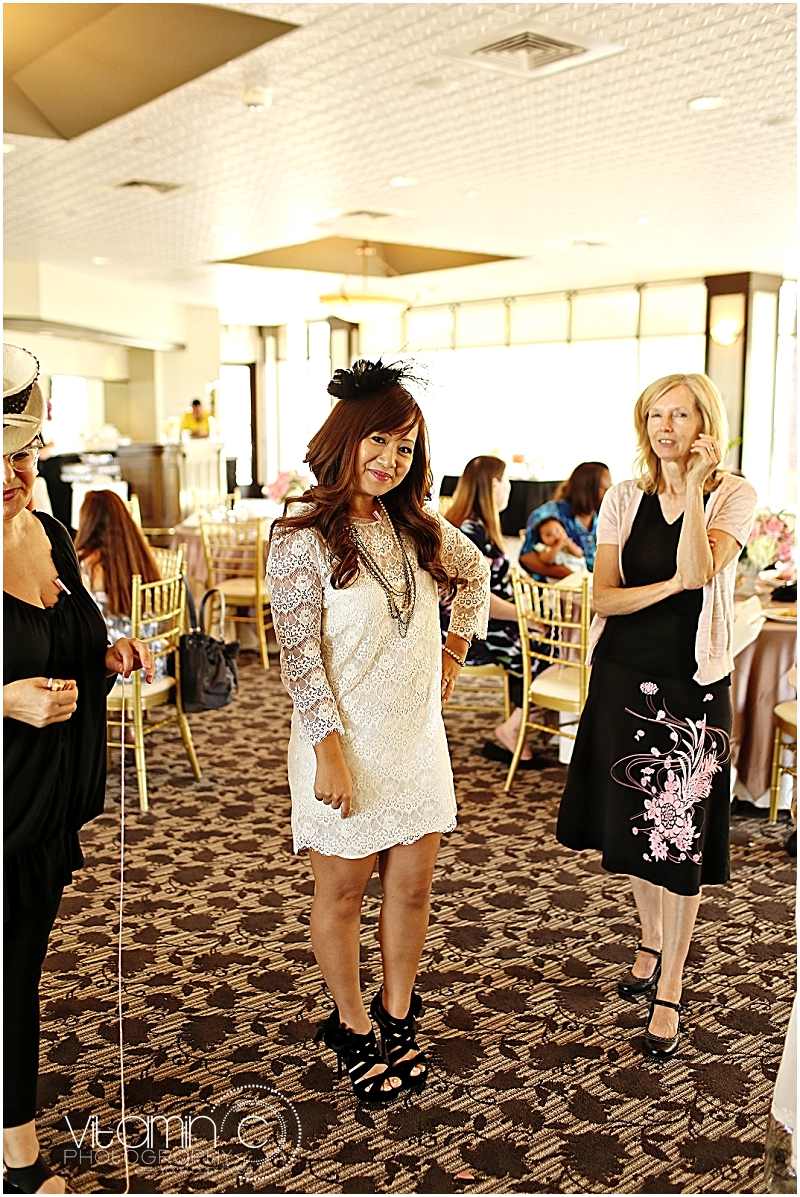 The fabulous Liz modeling her vintage attire and picture-worthy shoes!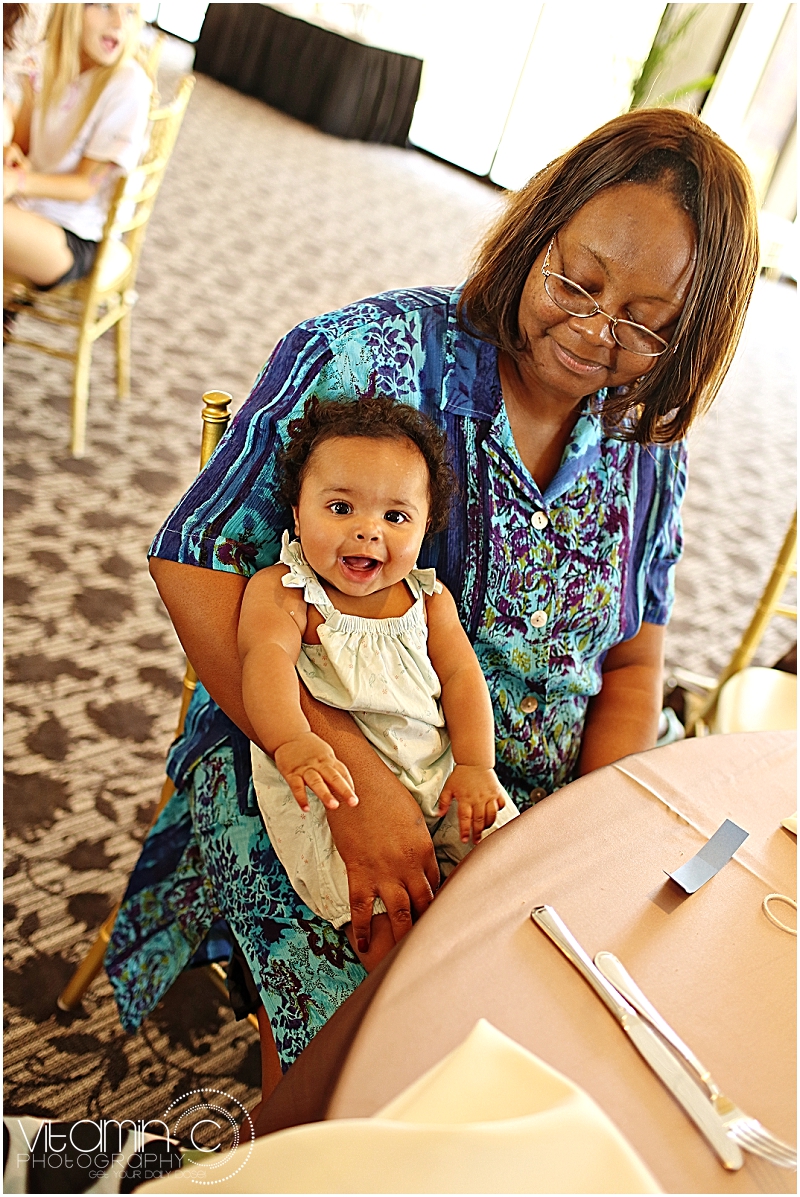 My sister-in-law Renee with our niece Venecia!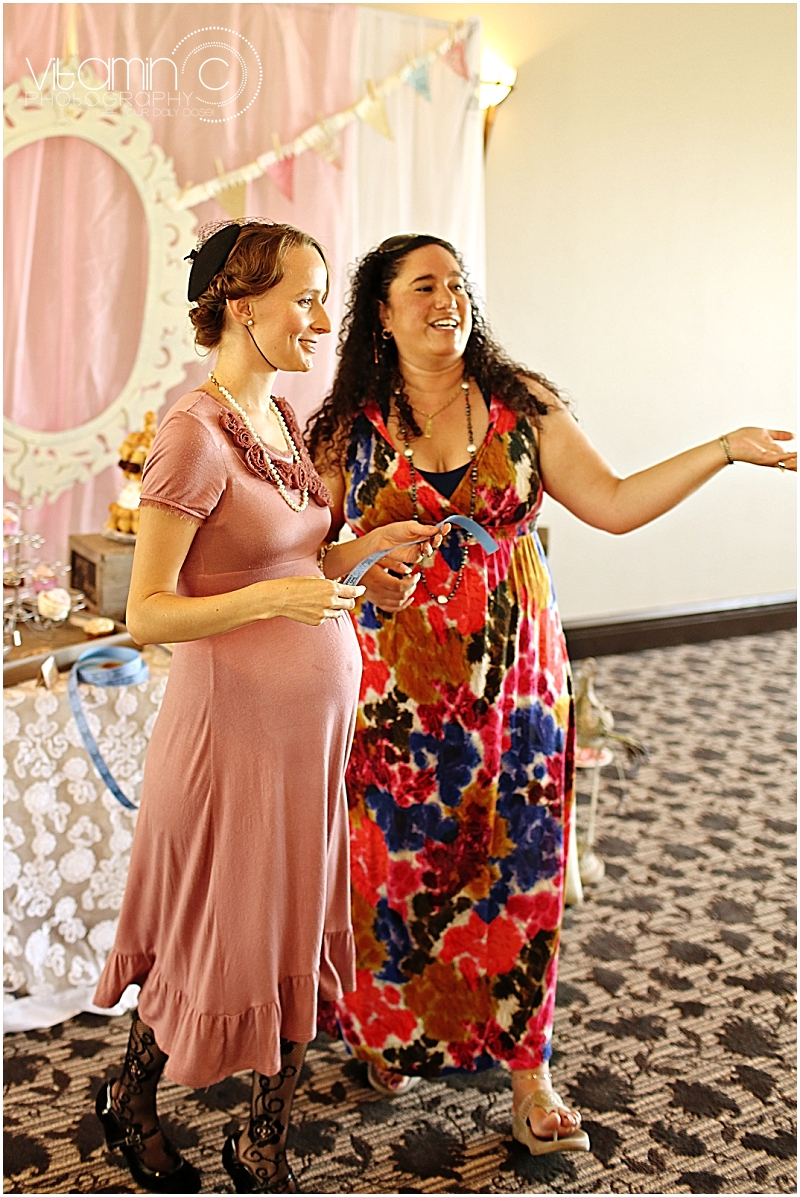 Me, with another past bride and friend, Cathi!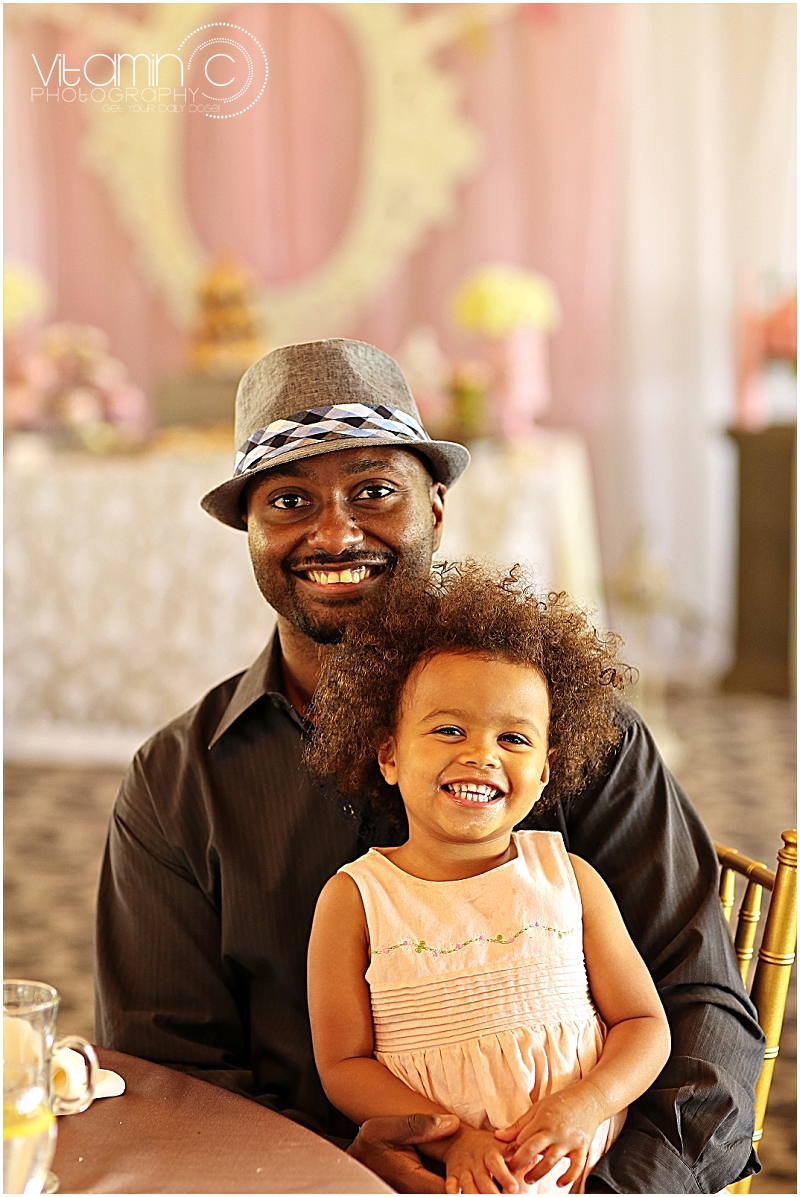 Daddy and Arielle.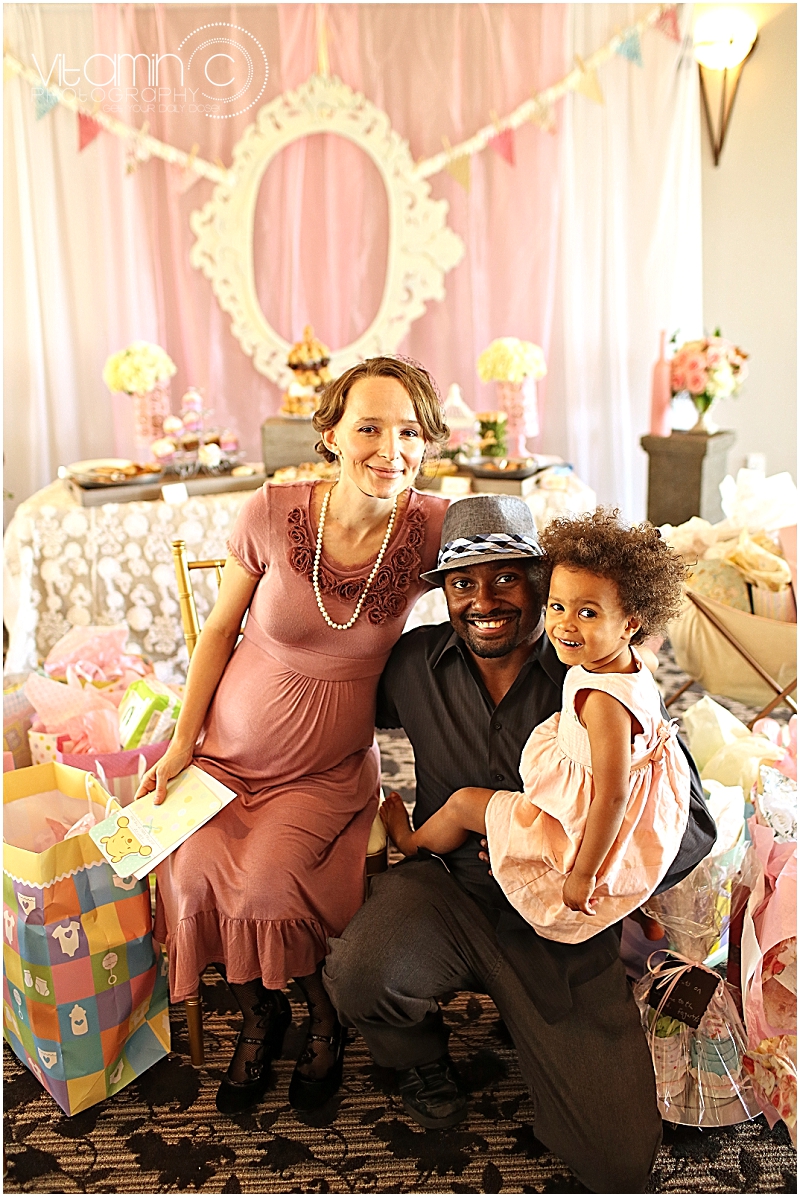 Mommy, Daddy, and Arielle.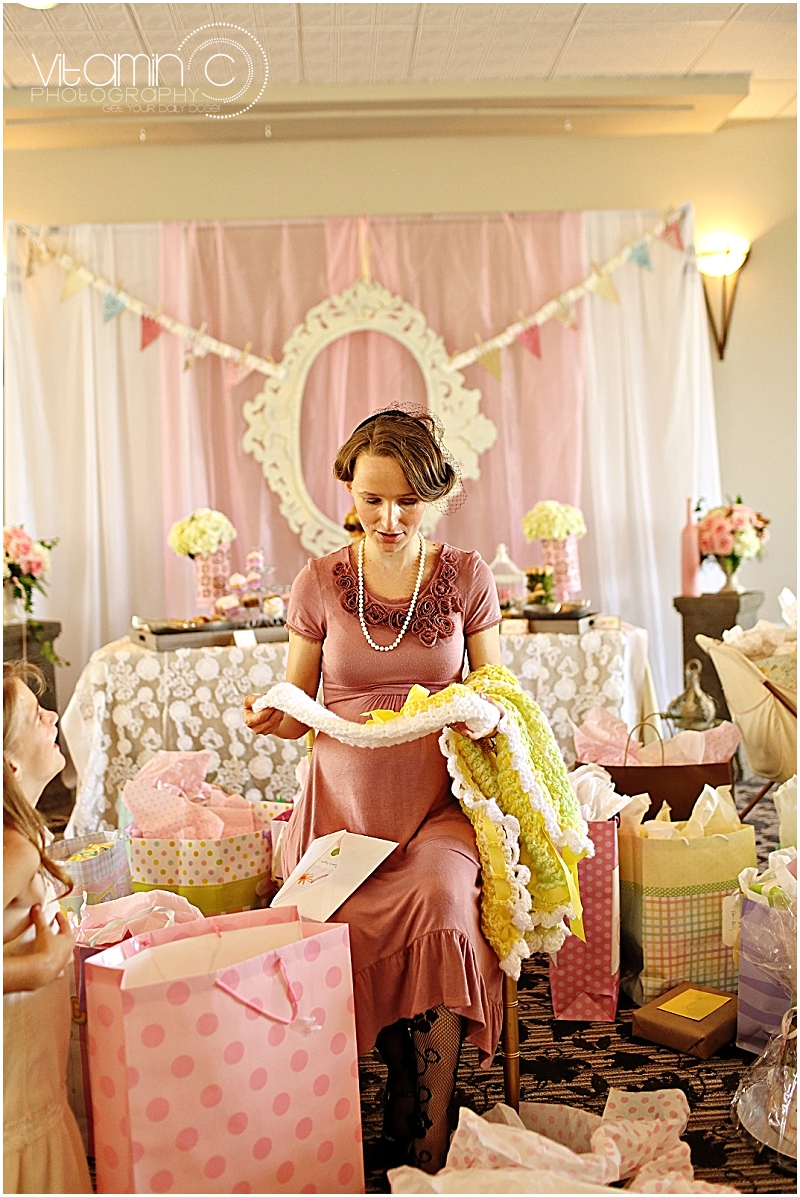 Me, amidst a sea of presents! I am actually holding a hand-made baby blanket, gifted by friend and past-bride Tara!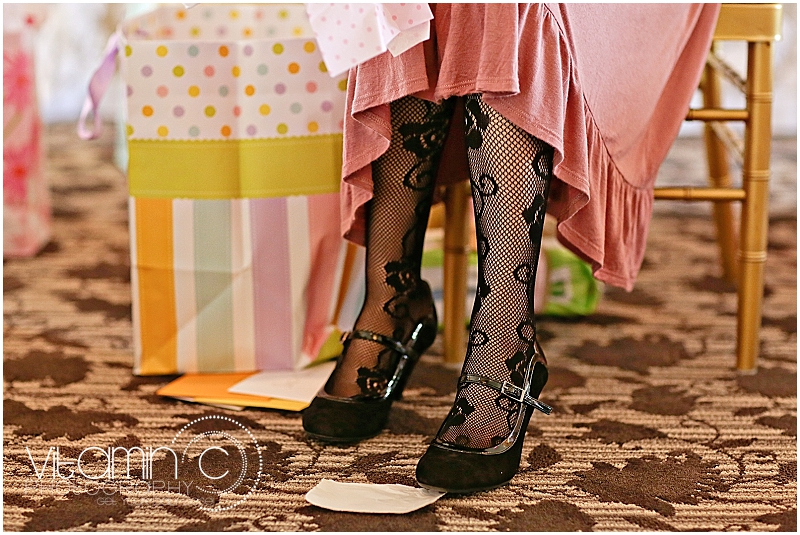 I think Kira snagged this totally cute pic of my legs! Thanks Kira! 🙂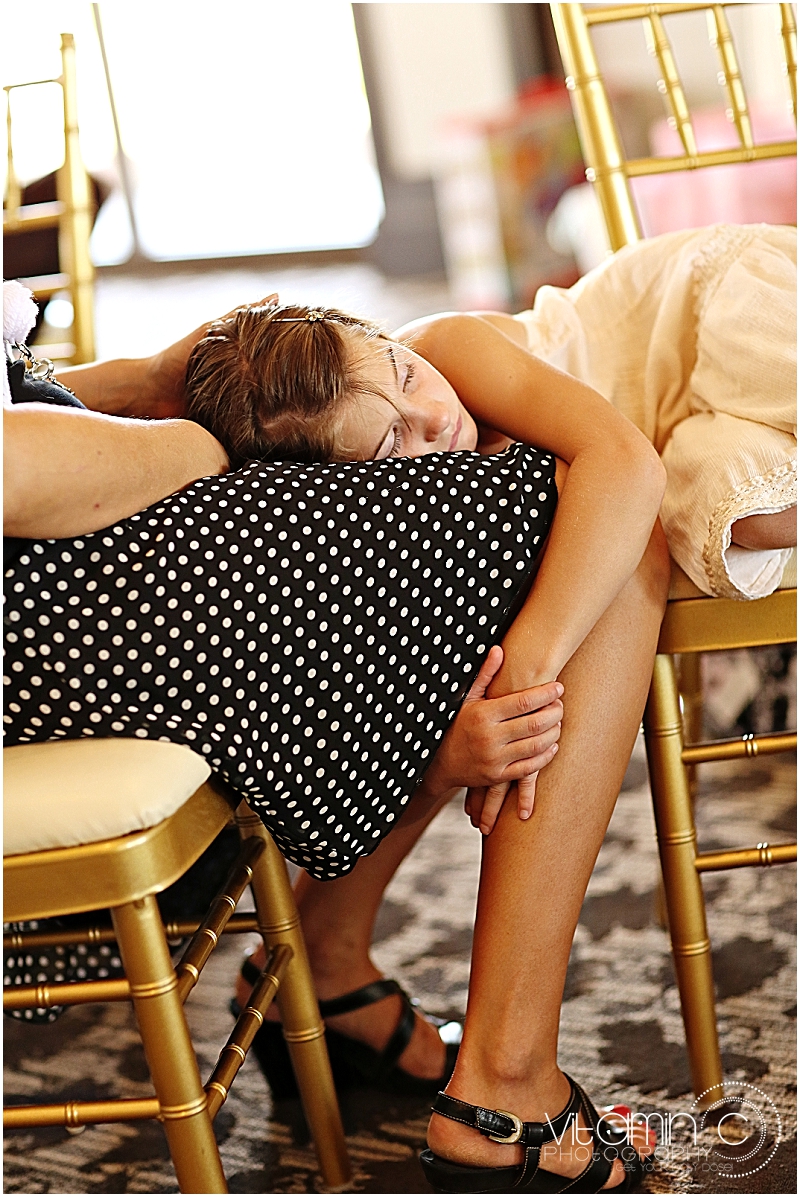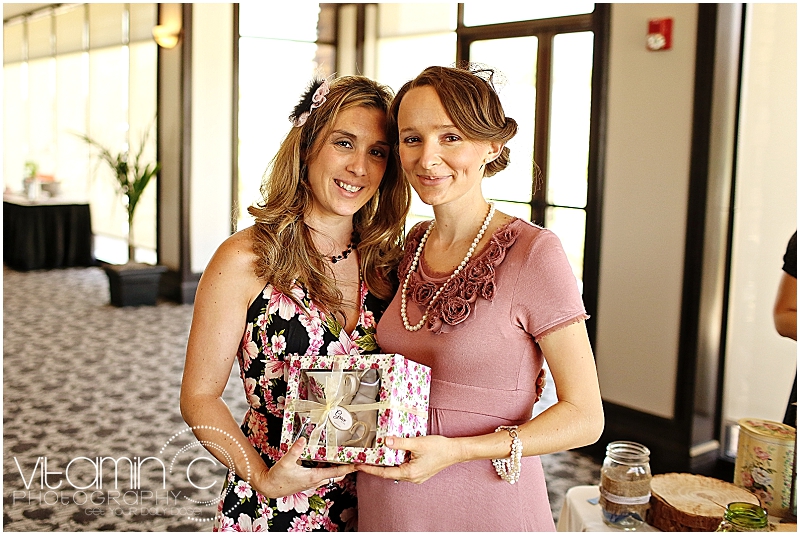 Raffling off our prizes! (The guests were given tickets upon arrival for wearing vintage clothing, bringing Seventh Generation baby diapers, donating a raffle prize, and for winning at baby shower games.)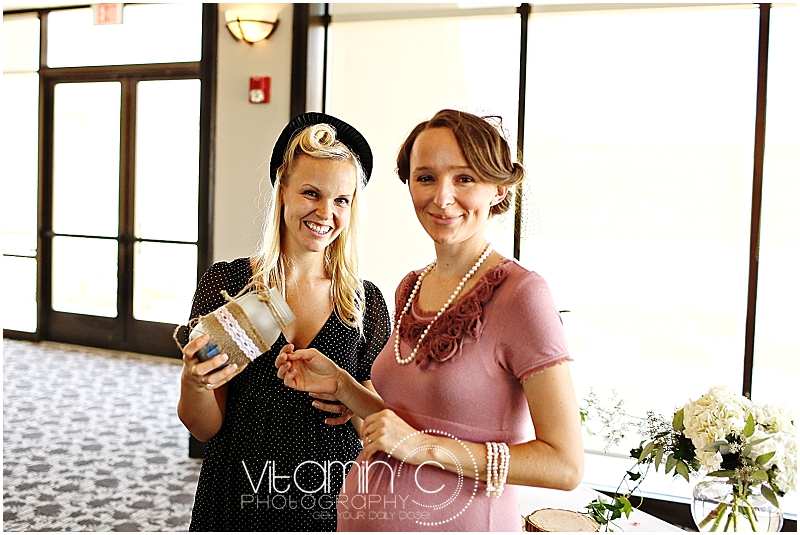 Here's me with the hostess with the mostess – Miss Kira herself! There are barely any pics of her as she was so busy with a lot of the behind-the-scenes work or behind the camera!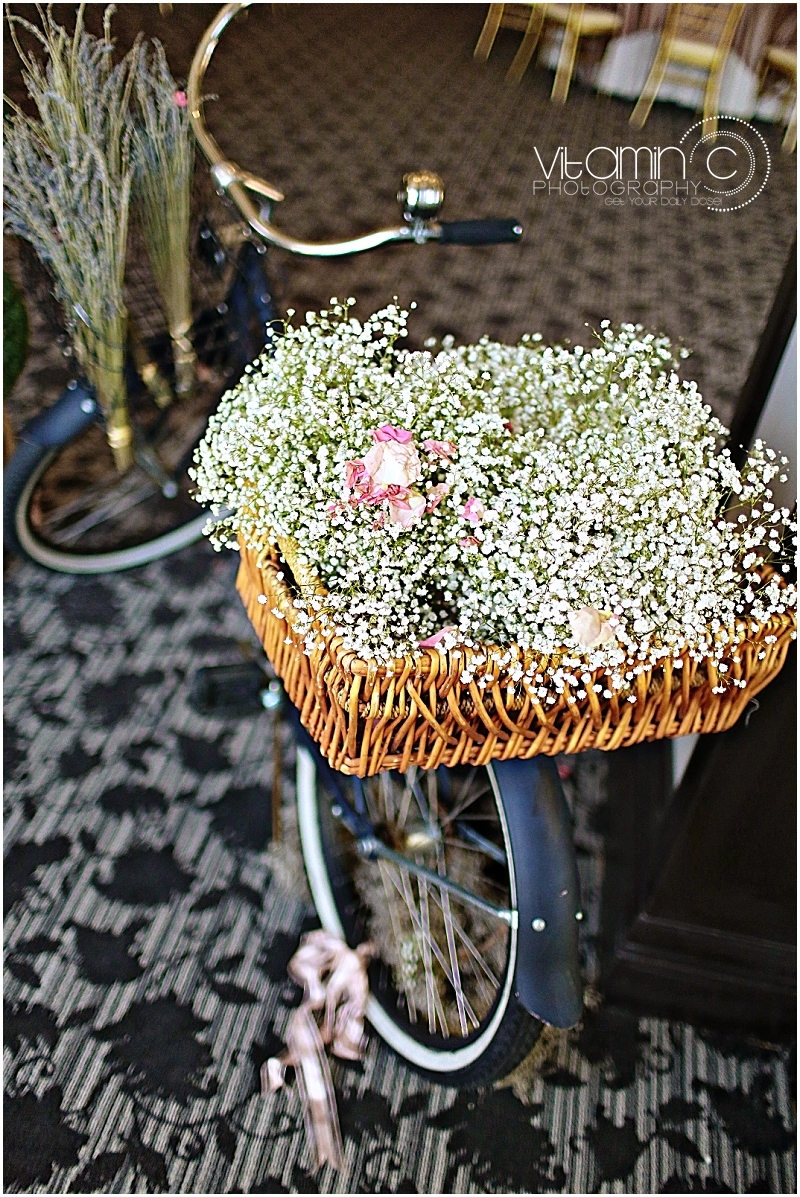 Flora Couture also provided this vintage bike, complete with a basket of Baby's Breath, as an entry-way piece.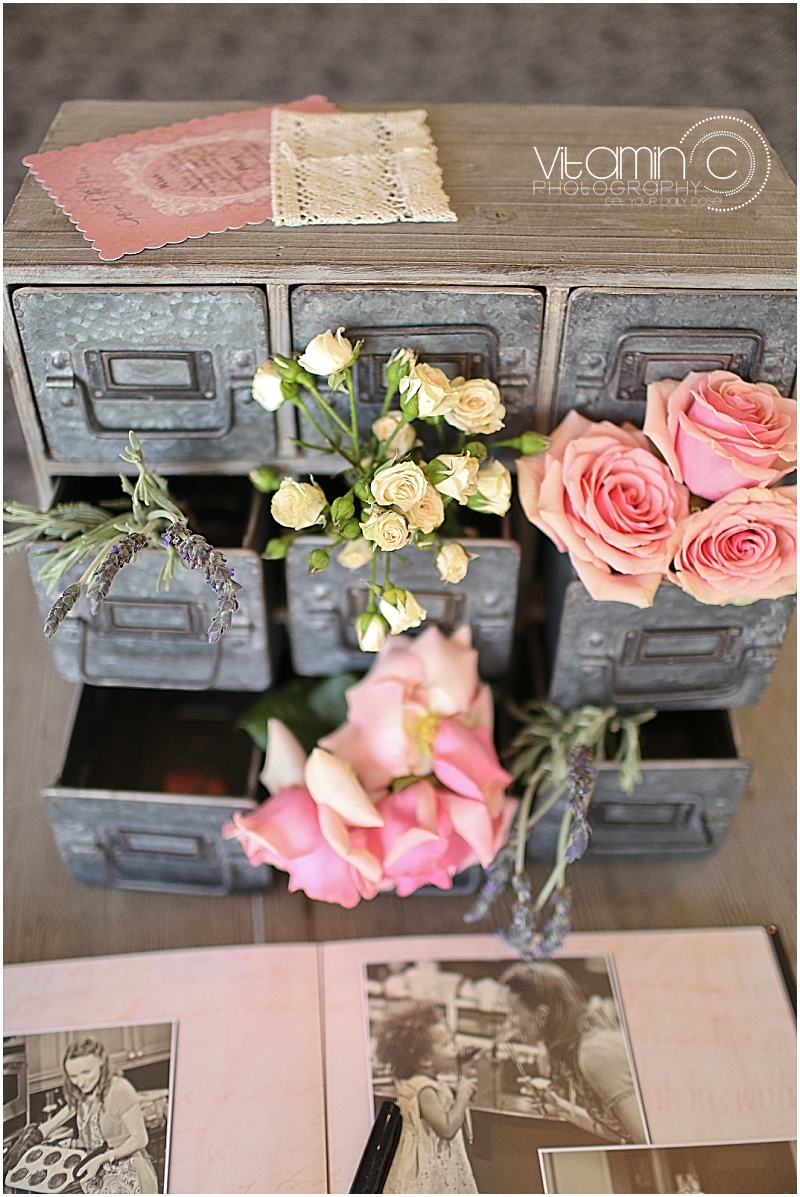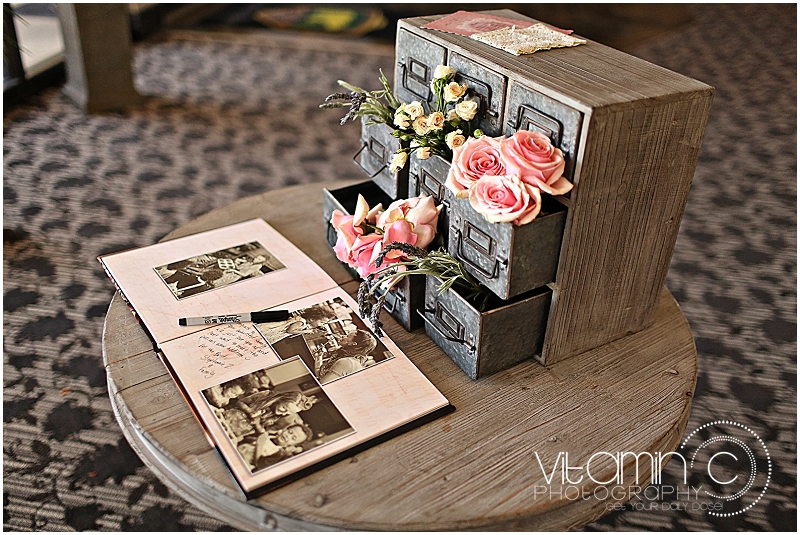 Here's another shot of our guestbook table! Kira gifted me with a maternity session, which I used as a family baking session in our kitchen! Seeing as how we were just days away from the shower, I edited them myself that night until 4am and designed the guestbook to get it back in time for the shower!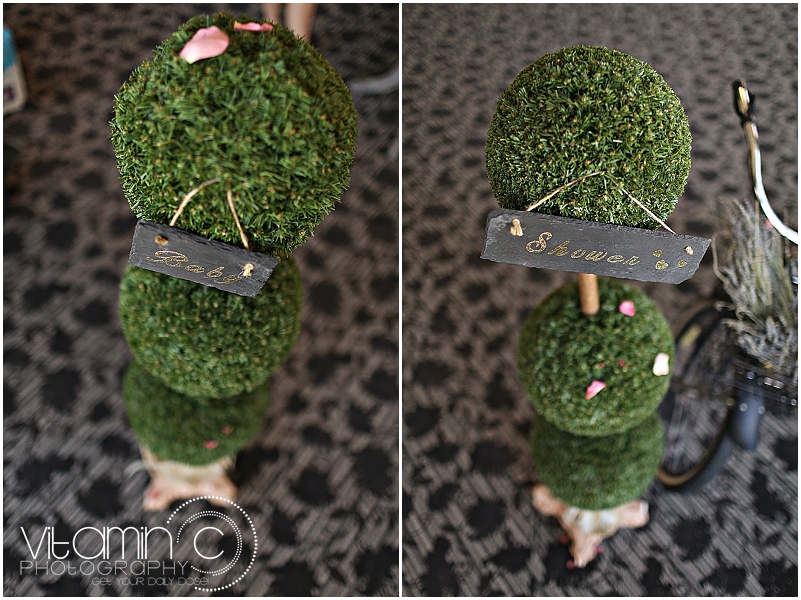 These ornate entry-way Baby Shower trees were also provided by Flora Couture.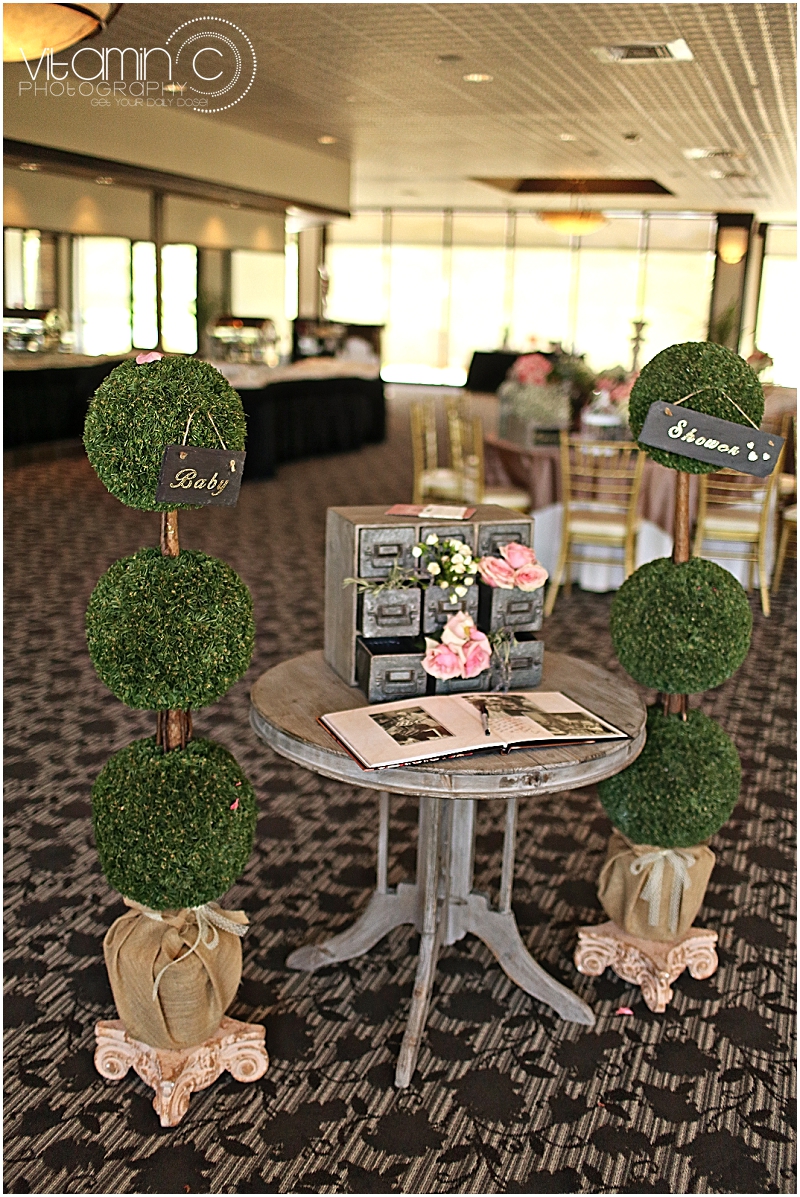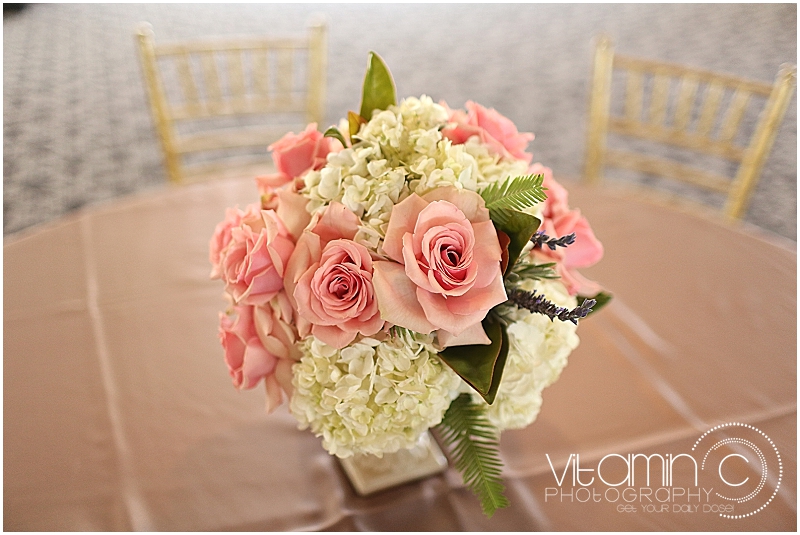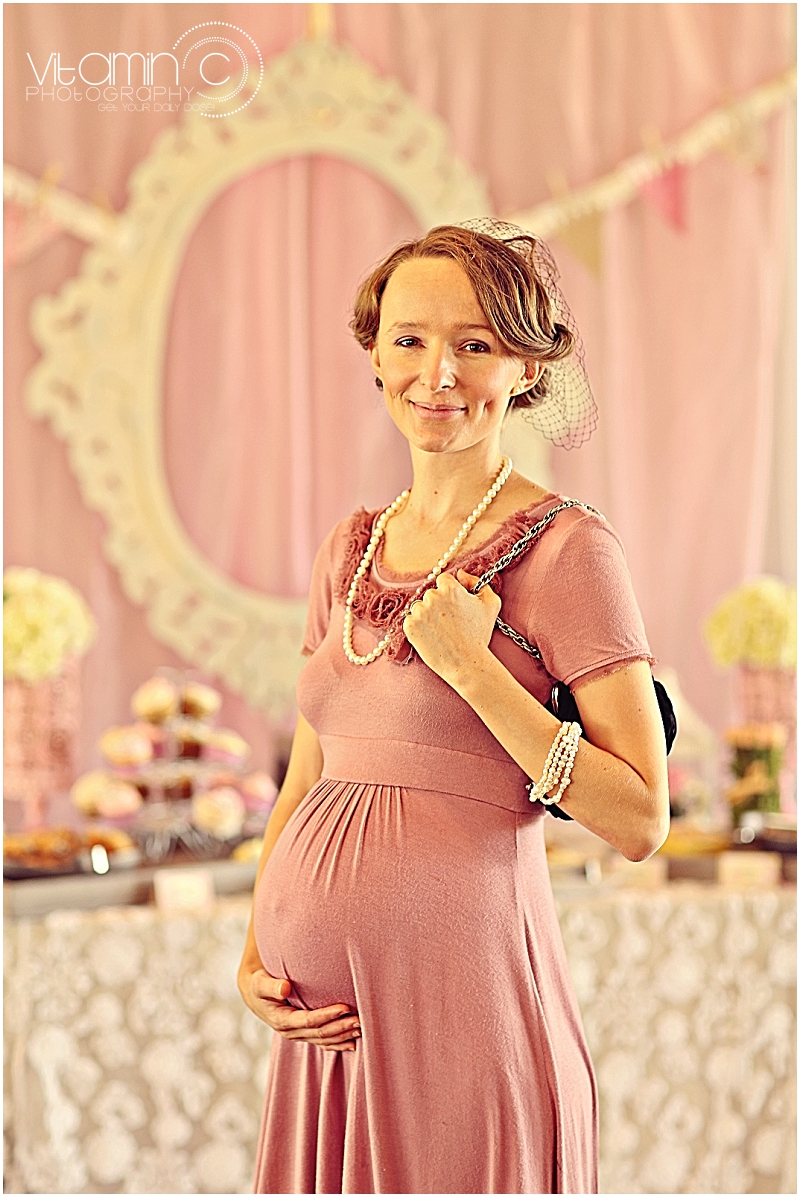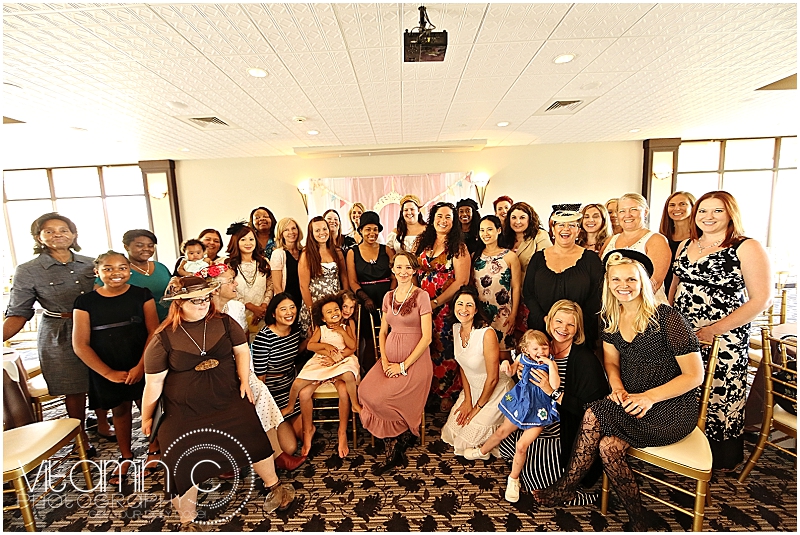 Here's a group shot of all of us gals!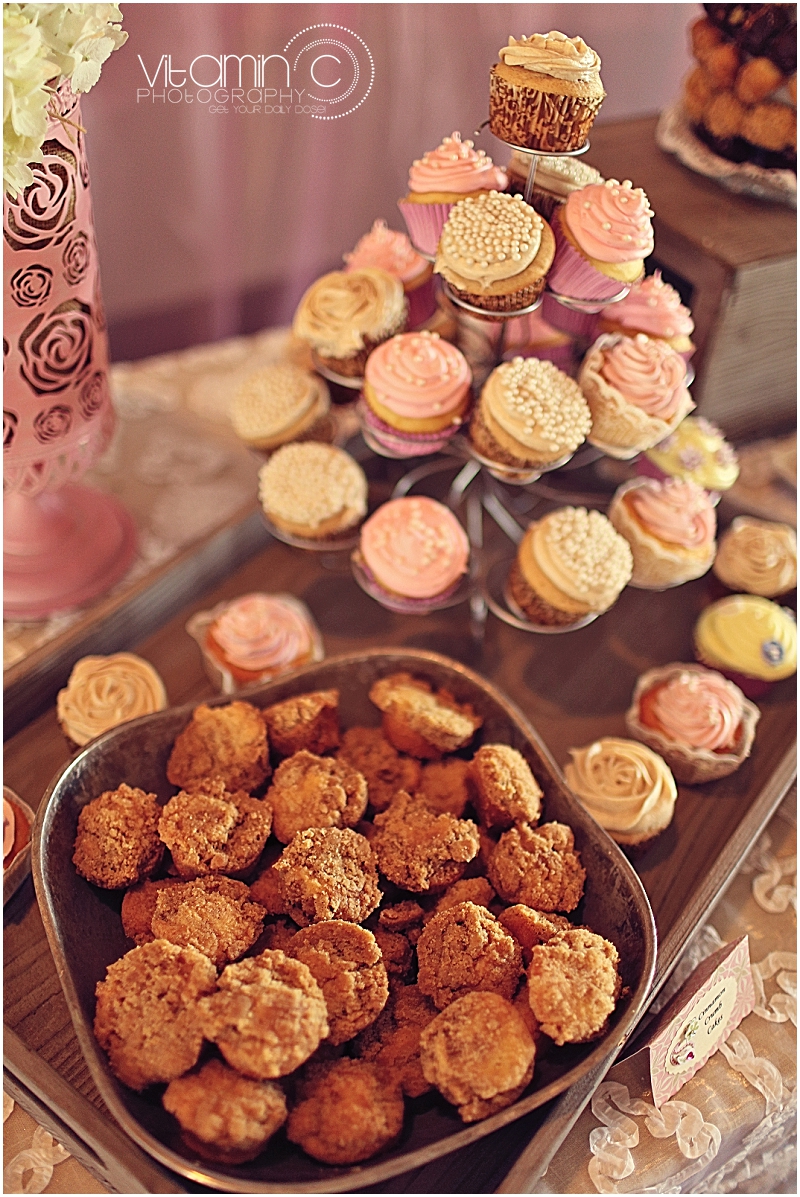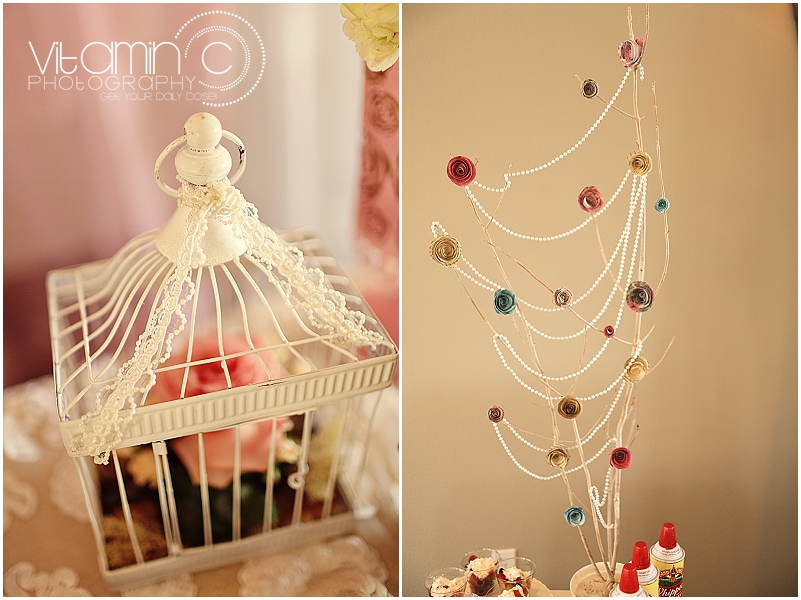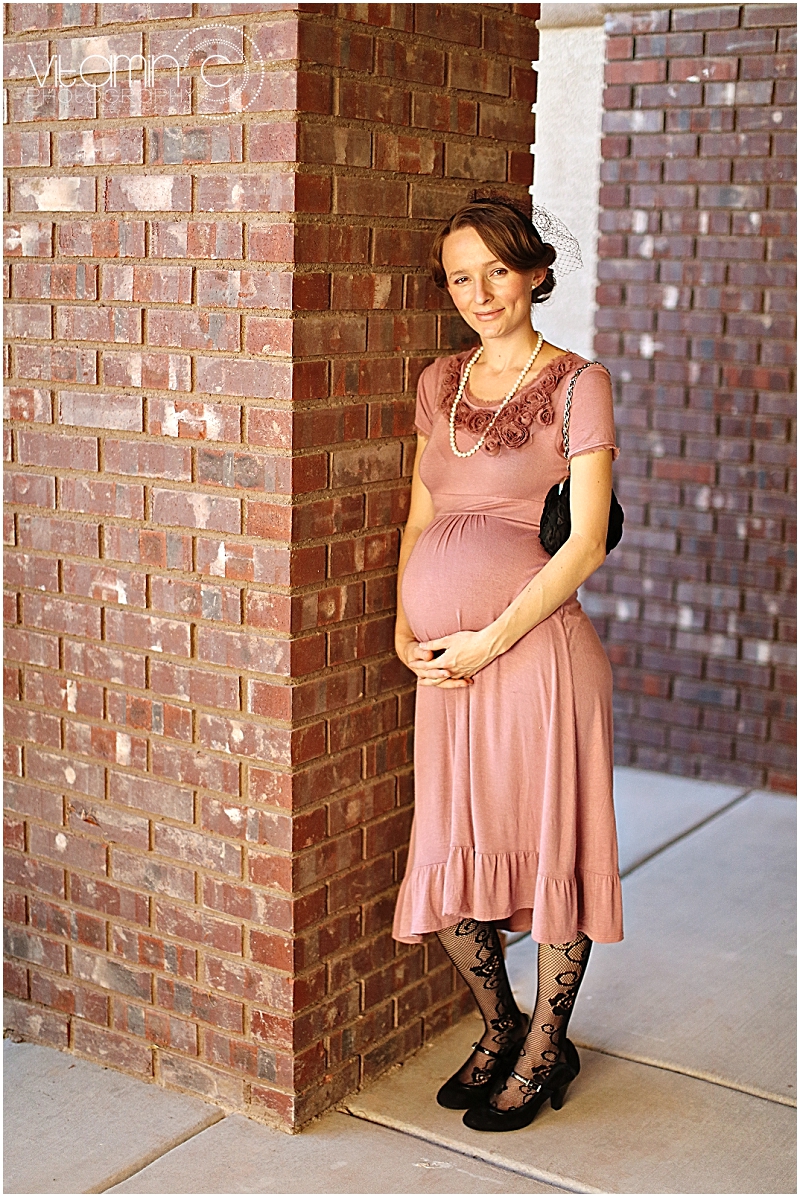 Thanks so much for taking a glimpse into my baby shower! Hope you enjoyed seeing all of the photos as much as I've enjoyed sharing them with you all!
Venue: Bear's Best
Floral & Decor: Flora Couture
Dress: Jen Clothing
Hat: Electric Lemonade
Shoes: DSW
Invitations: Vitamin C Photography
Photography: Vitamin C Photography
Cinematography: Lighten Films