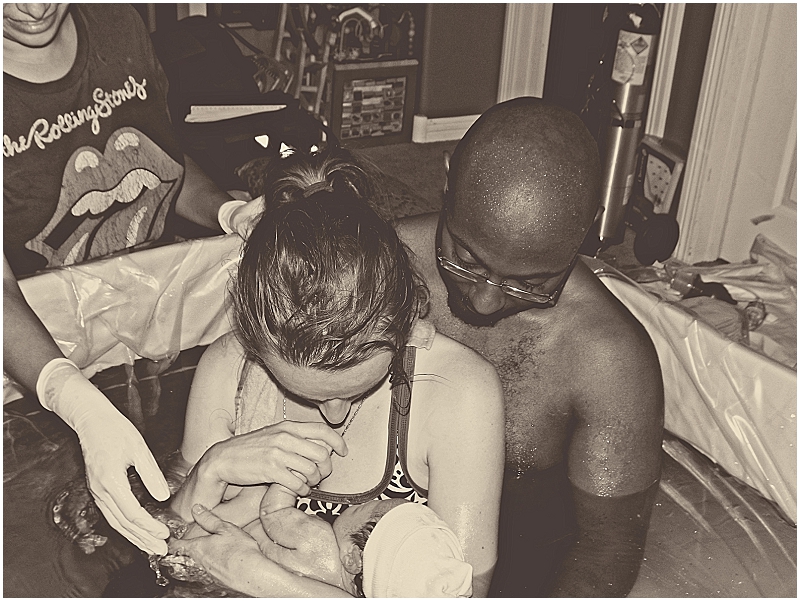 My doula, Shannondoah, captured this sweet moment on her camera.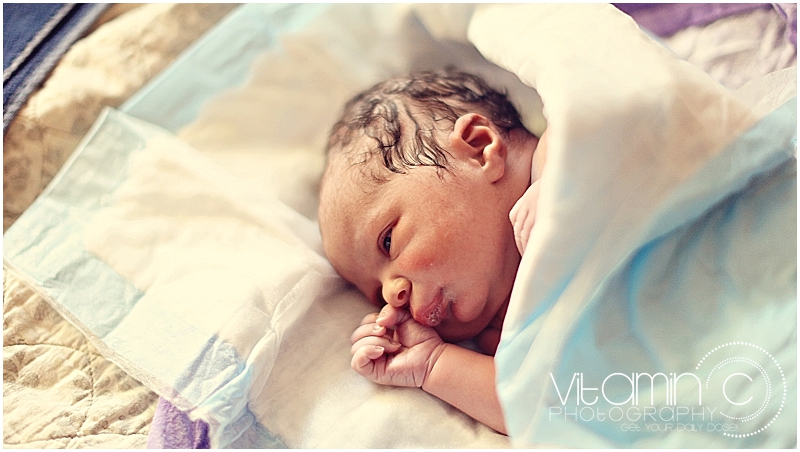 Here is Miss Genesis on her birthday. 🙂
Genesis was born at 6:16am on October 7, 2012, weighing in at a healthy 7lbs 8oz.
Although this pregnancy started off with a lot of worry, I prayed heavily and reminded myself that God is in control. As most of my blog readers know, our last pregnancy ended up in tragedy, with a severely brain-damaged preemie baby, who is now 2 years old, and 100% reliant on parental help for survival. She cannot swallow, sit, stand, speak or convey emotion.
After living through every parent's worst nightmare, you can imagine the amount of fear a new pregnancy would bring about. Terrence and I had discussed Savannah being our last baby, donated all of our saved up baby gear and clothes, and weren't expecting to conceive again.
Lo and behold, the morning sickness started up…
I bounced back and forth between hiring a regular OBGYN, a parenatologist or going with a midwife. I had appointments with several, received ultrasounds to monitor that I wasn't having any placental issues, like I did in my previous pregnancy, and at 6 months pregnant, I decided that I could trust my body and trust in the Lord to allow me to have a safe and healthy home-birth and hired a mid-wife. Obviously, my decision, was not decided rashly, but took much careful thought, research and prayer to come to feel comfortable with my decision.
My doula, Shannondoah, helped me with a lot of fear releasing, and I kept reminding myself of a very motivating thought that one of the midwives I interviewed shared with me.
As I asked her about the safety of doing a VBAC, she compared it to driving a car. She said that millions of people drive their cars every day to work, to school, to the supermarket, etc. Do they get anxiety every time they get in their car? More than likely not. Although people die in car accidents every day, the survival rate is much, much better than the death rate. People know that there are certain risks that increase car accidents, like driving under the influence or having a pre-existing condition, like seizures, that can inherently increase the risk. But, accidents are less likely to occur, if you are aware of the situation, focused on what's going on in front of you and around you, don't ignore danger signs, and know that ultimately God is in control. 🙂
This made an incredible amount of sense to me.
Even after she shared this with me though, I continued to research, research, research, because, after all, this is my life, and my child's life that I'm making a decision for.
We were expecting Genesis to arrive 10 days early as my first two children arrived 10 days early, weighing in right around the 6lb mark. They were relatively easy births.
Well, 10 days came, then 9, then 8, 7, 6, 5, 4, 3….
We were getting worried, as she still hadn't arrived and my husband had 3 weddings closing in over the course of a 36 hour period during my final home-stretch. He was going on 4 hours of sleep in 2 days, and after his 3rd wedding ended on October 6 at 10pm, my water broke. LOL. I labored at home in a birthing tub, and 8 hours after my water broke, I delivered Genesis into my loving arms. I was expecting to cry with happiness, but I think was just too exhausted and wanted to focus on making sure she was in perfect health.
She's perfect, and we are so in love, and God IS in control. 🙂